Top Vape Shops Directory in 2022
Exploring the Best Vape Stores
City
State
Top Store
Miami
Florida
Vape & Smoke Shop
2895 Biscayne Blvd, Miami, FL 33137
(786) 703-7692
Las Vegas
Nevada
TruVape
4059 Spring Mountain Rd, Las Vegas, NV 89102
(702) 463-3377
Truvapenv.com
New York City
New York
Vape Easy New York
264 Canal St, New York, NY 10013
Phone Number: (212) 431-2511
Vapeasynewyork.com
Chicago
Illinois
Vape312
3221 N Sheffield Ave Chicago, IL 60657
(847) 859-5579
Vape312.com
San Francisco
California
Gone With The Smoke
569 Geary St, San Francisco, CA 94102
(415) 938-7508
Gonewiththesmoke.com
London
England
House of Vapes
232 Shoreditch High St, London, UK
+44 20 3583 4070

Hong Kong
China
The Vape Shop Hong Kong
3 Chiu Kwong St, Sai Ying Pun, Hong Kong
+852 5165 6313


Dallas
Texas
710 Vapors
6751 Abrams Rd #124, Dallas, TX 75231
469) 233-3827
Portland
Oregon
Rose City Vapesters
1410 SW 11th Ave #104, Portland, OR 97201
(503) 880-0312
Our Top Vape Stores for 2022
We think the best online vape store, and the best vape store for shopping for all things vaping related is Direct Vapor. They offer impeccable customer service, a price matching guarantee, 10% off when you setup auto ship. Moreover, Direct Vapor provides Free Shipping with no minimum. Yes, you read that right. That said, the only downside we see, is a 15-day return policy. But with that comes no restocking fee, unlike some other vape stores. Lastly, they have a low price guarantee.
Why Visit Local Shops?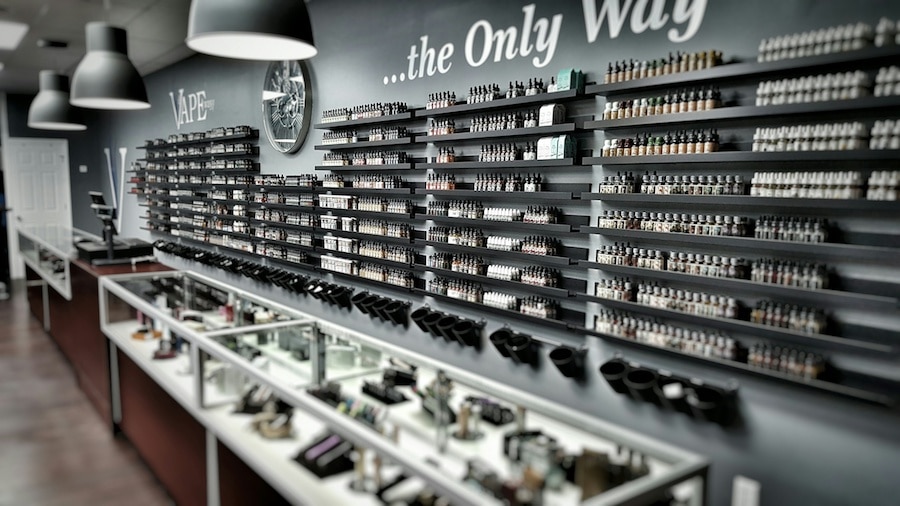 Online vape shops are great if you happen to live out in rural areas without shops nearby. But if you live in one of the larger, metropolitan cities you may be overlooking some good local resources for your vape gear and supplies. We have compiled a list of popular cities and the best vape shops for that area.
Community Support
It is always good to support your community by shopping local vendors and merchants because the money you spend there goes back into the community in other ways to help spread the word about smoke-free alternatives to tobacco. Besides being good for the community it also helps vapers who may be traveling or on vacation find good places to refill their e-liquid or buy replacement coils. In order to figure out the best local vape shops, we had to have a way to rank them, so……
We Went to the Experts
When deciding to make a list of the best local vape shops, we needed to find out how to rate them and what we should use as our deciding factors. What better way to find good places to shop than to ask previous customers. We talked to our customers and asked them about their favorite vape shops and what they liked about them. Their experiences were invaluable. It gave us the criteria we needed to judge a good vape shop.
What they said were the most important things:
Product availability (selection)
Good customer service (friendly, helpful staff)
Knowledgeable experts for questions, concerns
Good prices on e-liquid, house brand, and others
Consistency ( the same experience every time)
High-quality e-liquid, hardware, and accessories
We took their words to heart and came up with this as our rating system. Using the customer's own preferences for finding the best local shops. We chose cities that had a high population or were frequently-visited vacation destinations so we could point out good shops to visit when in XYZ city.
Our Criteria
The criteria for ratings were based on selection, friendly staff, quality products, value and overall customer experience . We feel that these are the most important factors in choosing a local store and this is what someone looking for a store to shop at would ask a fellow vaper when requesting a referral.
Spread the Word
We've all had at least one bad experience at a vape shop (staff not helpful to new vapers, store was messy, bad customer service, inconsistency in prices) and as seasoned vapers ourselves, we'd like to help new vapers avoid some of those unpleasant situations by pointing out good places to spend their money and get the best prices and service.
One time or another, we have all spent money on e-liquids that turned out to be unappealing, hardware that didn't work as expected, or was waited on by staff that were less-than-enthusiastic about helping us find what we needed. Those experiences are enough to turn off new vapers and we want to avoid that happening as much as possible. Vaping is a great alternative to smoking and we want new vapers and soon-to-be new vapers to get the best experience when shopping for supplies because we want them to keep vaping.