Best RDAs of 2022 & Reviews
Which RDA (Rebuildable Drip Atomizer) Should You Buy?
Features
Expert Rating

HellVape Dead Rabbit

Four Post Build Deck
Single or Dual Coil
5mm Deep Juice Well

(98%)

Wotofo Troll V2

Two Post Build Deck
Dual Coil
10mm Deep Juice Well

(98%)

The Goon RDA

Bridge Clamp Deck
Single or Dual Coil
6mm Deep Juice Well

(96%)
Our # 1 RDA (Rebuildable Drip Atomizer) for 2023
We spent many hours testing and reviewing some of the best RDAs on the market today to bring you our top pick for the number #1 spot: The HellVape Dead Rabbit RDA. 
Why the Dead Rabbit?
Cute atomic bunny logo
Simple, easy to build on deck
Deep juice wells and ability to use single or dual coil builds.
Editor's Choice
The Best RDA of 2023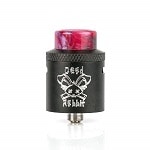 (98%)
Which Type of RDA is Right For You?
If you are looking for a new rebuildable atomizer to add to your growing collection, or if you are a new vaper who is looking to get into building your own coils, then you came at the right place. Here, you will learn all about the best RDAs so you will have no problem choosing the right one for you.
Good-size Airflow Holes
If you are looking for an RDA for bigger clouds, the first thing that you should look for are big air flow holes. The general rule of thumb when it comes to cloud-chasing is more airflow is equal to bigger clouds. The newer RDAs have such huge airflow holes that you will hardly feel any resistance when you take a deep drag.
A Deck That Accomodates Larger Coil Builds
For bigger clouds, you need to install bigger diameter coils. The more surface area that heats up and vaporizes the juice, the bigger and thicker clouds will be. Check the build deck, especially the holes where you will insert the leads for your coils and the distance between the positive and negative posts.
Narrowed Mouthpiece
If you are looking for the best RDAs for flavor, choose the ones with the smaller chambers. The shorter distance the vapor has to travel before it reaches your mouth means that less flavor is dissipated. Ideally, the inner chamber of the chuff cap should tapered or concaved towards the drip tip, this concentrates the vapor and makes the flavors more intense.
Complicated Build Decks
If you are a beginner at coil building, you should avoid RDAs with complicated build decks. Ideally, for beginners, the two-post Velocity-style build decks are recommended. This type of build deck makes it easy to install coils because the post holes are staggered, so you do not have to bend your leads.
Buying RDAs with a Non-Adjustable 510 pin
For those experienced vapers:  Avoid non-adjustable 510 pins. The 510 pin is the copper colored bolt that sticks out from the bottom of the RDA. Ideally, the 510 pin should stick out by a couple of millimeters, this means you can safely use the RDA on a hybrid mechanical mod and not just on a Variable Wattage mod with a spring-loaded 510 connector.
Buying an RDA without Exta 0-rings
Avoid RDAs with flimsy O-rings. Try spinning the chuff cap/air flow control a bit; if it seems too easy to twist then the O-rings are too small, which means that you will be constantly adjusting the airflow controls because they will most likely close or open up on their own. If your RDA doesn't come with an extra set, buy some anyway.
Specialized Reviews Ranking System
At License to Vape, we employ a comprehensive evaluation system to analyze and measure the full value of products, by looking at the ingredients, clinical studies, safety, projected effectiveness, return policies, and overall customer satisfaction. This method is known as the License to Vape Ranking System.

As an expert vaper testing and using everything from starter kits to mech mods and tanks to RDA's, I have learned a lot about vaping and the vape experience over the last 5 years. We test and review some of the best products on the market to help you find some of the highest quality products available today. Ask me about my favorite RDA or tank. 
[email protected]