Electronic cigarette starter kits have a wider array of options than the entry-level disposable electronic cigarette. The rechargeable e-cig is a very simple device consisting of a rechargeable battery and a liquid nicotine cartridge. Ecig starter kits are ready to vape, you simply attach the nicotine cartridge to the battery and you can start puffing.
There are so many different options for rechargeable electronic cigarettes that it can be confusing and frustrating for a first time buyer. These e-cigs range in size from a regular cigarette to a cigar. There are also manual and automatic battery styles. And you can get them in virtually any color! With so many options, which one do you choose?
Don't worry, this e-cig buying guide has you covered. The most important thing to remember is you are trying to find the right electronic cigarette that will enable you to quit smoking for good. If you are a medium to heavy smoker, chances are these rechargeable electronic cigarettes are exactly the right place to start. They offer more choices than disposable e-cigs, they are more powerful, and they generally deliver more nicotine per puff than the disposable ones.
Rechargeable electronic cigarettes also save you a lot of money when compared to disposable e-cigs. And especially compared to regular cigarettes!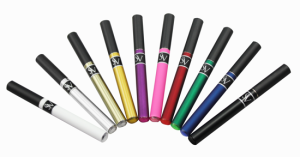 All electronic cigarette starter kits come with the same basic items. The rechargeable battery, a charger (usually USB or wall charger), and the liquid nicotine cartridges. Some e-cig starter kits come with more than one battery, some have more nicotine cartridges than others. Regardless, when you get the starter kit, you simply charge the battery, screw on the nicotine cartridge and start vaping.
Some of you may have already tried one or more rechargeable electronic cigarettes and/or disposable electronic cigarettes. And some of you were probably very disappointed with the performance of those devices. Don't worry, I guarantee there is an e-cig out there that is perfect for what you want and need. There are a lot of rechargeable e-cigs that are made from really low quality parts, and a lot of e-liquid that tastes like garbage. I know, I've been there myself.
If you have already tried disposable electronic cigarettes, or even rechargeable electronic cigarettes, you probably have some ideas about what you're looking for. Maybe you liked the disposable e-cig but want a more powerful "throat hit." Or you want more vapor each time you puff. Or different flavor choices and a longer lasting battery. Keep all of that in mind as you look for your perfect e-cig. And remember that the bigger the battery, the more powerful the e-cig and the longer it lasts before needing to be recharged.
If you choose to go with a smaller sized e-cig, make sure to get two batteries. Luckily, most starter kits come with two batteries if they are smaller sized. This way you can vape one while the other is recharging and you never have to wait around for a recharge.
Many first time e-cig users will expect their experience to be exactly the same as smoking a regular cigarette. Save yourself some disappointment and give up that idea now. Depending on which rechargeable e-cig you decide to buy, you can get a very close experience to a real cigarette. Tobacco smoke is much thicker than electronic cigarette vapor. This is where most smokers are disappointed. However, if you get an e-cig with a bigger battery and choose tobacco nicotine cartridges with high nicotine content, you will feel like you are smoking a real cigarette.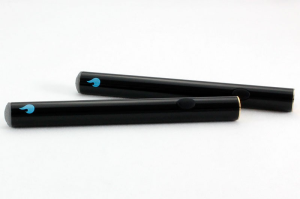 And if you're looking to try different flavors of nicotine, you are in luck. There are tons of different liquid nicotine flavors, and most electronic cigarette starter kits give you the option to choose your own nicotine cartridge flavors.
Find a rechargeable e-cigarette brand and nicotine flavor you enjoy. Then experiment with different nicotine strengths to find the perfect one for you. So take a look at our list of the best rechargeable e-cigarette starter kits. These starter kits come in many different styles and price points with tons of nicotine flavor options. You'll definitely find one that suits your needs.
As for price, expect to pay between $40-$100 for a complete electronic cigarette starter kit that has all you need to start vaping. With a few exceptions (notably the Halo G6), the more you spend, the higher quality your e-cig will be. And don't forget to purchase additional liquid nicotine cartridges. You might want to try a wide variety of flavors to figure out which one you like best.
Tons of smokers find rechargeable electronic cigarettes to be the best for every day use. However, if you aren't satisfied, don't worry, just check out the more advanced e-cigs like eGo style or Personal Vaporizers.
So check out our list below of the best electronic cigarette starter kits. Vape On!
The Best Rechargeable Electronic Cigarette Starter Kits
---
Best All-Around Starter Kit
Edit
Halo G6

Halo G6

Price
$44.99

Buy the Halo E Cig G6 Starter Kit If You:

1. Want an e cig that gives you the ability to use pre-filled cartomizers or fill your own blanks with Halo e-liquid. Highly recommend for vapers who are ready to move on to more advanced e-cigs but want to keep the option of using pre-filled cartos.

2. Like trying different e-liquids but, unlike a lot of e-cig brands, want a battery that's comparable in size to a real cigarette.

3. Want a beginner-intermediate level e-cig that gives you thick vapor clouds and extensive e-liquid choices that rival advanced e-cigs, without draining your bank account.

Halo Cigs Coupon – 5% Off All Halo Products

Use Coupon Code: LICENSETOVAPE5
Awesome Vapor, Great Kit
Edit
South Beach Smoke

South Beach Smoke

Price
$21.99 to $159.99

Buy the South Beach Smoke Starter Kit If You:

1. Want a premium quality pre-filled e-cig for an economical price

2. Want a wide variety of delicious flavor choices but don't want the hassle of filling your e-cig
with e-juice

3. Want a portable sized rechargeable e-cig that looks cool, tastes great, and mimics a real cigarette.

4. Want your rechargeable e-cig to produce huge vapor clouds that rival more advanced e-cigs.

South Beach Smoke Coupon – 10% Off All Starter Kits

Click the green "Shop Kits" button above to automatically get 10% off
South Beach Smoke starter kits.
Best Design, All-Around Excellence
Edit
ePuffer

ePuffer Snaps

Price
$59.95 to $79.00

We finally got around to trying the new ePuffer Snaps e-cig and realized it's so good, we should have been vaping this e-cig since it was released in January. What makes the ePuffer Snaps such a great e-cig? Simply put, you get superior vapor production, ease of use and better flavors than almost all the other pre-filled e-cigs. Putting all hyperbole aside, this is hands down one of the best pre-filled rechargeable e-cigs available.
ePuffer Coupon – 10% Off All ePuffer Products

Use Coupon Code: L2VAPE
Most Popular Brand
Edit
V2 Cigs

V2 Cigs

Price
$34.95 to $149.95

V2 is the standard-bearer for pre-filled electronic cigarettes. They are one of the most popular and well known e-cig brands in the world. And for good reason. The lusciously thick vapor makes you feel like you are smoking a real cigarette. The Red flavor is fantastic and Sahara is a close second. Customer service is top notch and the pricing is competitive. If you're new to vaping and e-cigs, V2 is a great place to start.
V2 Cigs Coupon – 15% Off V2 Starter Kits

Use Coupon Code: licensetovape15
Kits, Cartos, Everything You Need To Start Vaping
Edit
Mount Baker Vapor

Mount Baker Vapor

Mount Baker Vapor is known for their incredible e-liquids, but they offer so much more. This is one of our favorite one stop shops for everything related to vaping. Everything they carry is of excellent quality – even the economically priced items. It doesn't matter if you are a beginner or an advanced vapor, you can find whatever you need at Mt. Baker Vapor. They have starter kits, PVs and Mods, e-liquid, cartomizers, accessories, DIY supplies and more. Check 'em out, you won't be disappointed.
Amazing Selection Of Starter Kits
Edit
Madvapes

Madvapes

This is the largest and most popular online vape shop. You should be able to find absolutely anything you need here no matter what it is from basic starter kits to rare drip tips. Madvapes was started in July 2009 in Huntersville, NC. Beginning with a humble start from a home office, Madvapes quickly expanded from home office to garage to rented warehouse space and recently to a 10,000 square foot warehouse. They got what you need!
Great For Beginners!
Edit
Eversmoke

Eversmoke

Price
$49.99 to $149.99

Eversmoke is a very reliable choice for those new to electronic cigarettes. Eversmoke offers great value and their rechargeable e-cigs produce huge clouds of thick, delicious vapor. The Eversmoke electronic cigarette might be the strongest on the market with a massive vapor cloud and very pleasing throat hit, but it's probably too strong for light smokers looking for a comparable experience.
Eversmoke Coupon – 10% Off Starter Kits

Just click the green "Shop Kits" button above to automatically receive 10% off starter kits at checkout.
Wide Range Of Price And Kit Options
Edit
Green Smoke

Green Smoke

Price
$18.49 to $129.60

Our Green Smoke starter kit review puts their e-cig in the same category as other top notch pre-filled e-cigs like V2 Cigs and Eversmoke. Green Smoke produces thick vapor clouds and has a great throat hit. Green Smoke is one of the faster growing e-cig companies. It's another great kit to start with for e-cig beginners.
Green Smoke Coupon – 10% Off Orders Over $100

Use Coupon Code: l2vape10
Great Value, Great Vapor
Edit
Apollo

Apollo Extreme Starter Kit

Price
$49.95

This popular electronic cigarette starter kit is a powerful and affordable option, and a great way to transition to a smoke-free lifestyle. It includes everything you need to start enjoying an electronic cigarette at an excellent value. This is a well-performing electronic cigarette that produces a pure flavor and an impressive amount of throat hit. It has a more powerful battery and larger cartomizer to vape all day long for an average to heavy smoker. It is incredibly easy to use and is backed by a Lifetime Warranty.
Apollo Coupon – 15% Off Starter Kits

Use Coupon Code: licensetovape15
The Hippest E-Cigs Around
Edit
Bedford Slims

Bedford Slims

Price
$12.00 – $49.00

Our Bedford Slims review shows these Brooklyn made ecigs are a low cost, high-performance option for vapers looking for easy, pre-filled, ready-to-vape ecigs. We got the Vapourette Starter System for our Bedford Slims review. We were very impressed overall with the performance of the ecig, the cartridge flavors and the low cost. We highly recommend Bedford Slims for beginner to intermediate vapers.