Our V2 cigs review shows that V2 is the best pre-filled e-cig brand on the market, giving you a pleasingly thick vapor, full flavor in a variety of choices, and a comparable experience to a real cigarette.

V2 Cigs Promo Code Coupon
V2 Cigs is offering License To Vape readers two exclusive coupon codes. Simply click the coupons below to receive 10% off any item from the V2 Cigs online store and 15% off all V2 Cigs starter kits!
For all of our exclusive coupons, check out the License To Vape coupon page.
V2 Cigs Promo Code Coupon – 10% Off Sitewide
V2 Cigs Promo Code Coupon – 15% Off Starter Kits
Vaping Experience: 10 out of 10

V2 is the standard-bearer for pre-filled electronic cigarettes. The lusciously thick vapor makes you feel like you are smoking a real cigarette.
The Red flavor is fantastic and Sahara is a close second. Customer service is top notch and the pricing is competitive. If you're new to vaping and e-cigs, V2 is a great place to start. V2 Cigs has a sister company, Vapor Couture, that sells e-cigs specifically for women. Check out the Vapor Couture review.
Price: 9 out of 10
For our V2 cigs review we decided to buy the V2 Ultimate Kit for $169.95. Anything less wouldn't allow us to give you the complete, unfiltered, comprehensive review that you deserve.
V2 offers a variety of other more modestly priced packages that should appeal to almost every customer. V2 prices are a bit higher than other brands (such as Eversmoke) but when you factor in the quality hardware that you are purchasing, V2 deserves the high rating.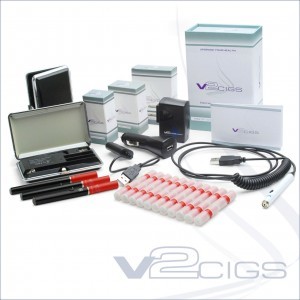 Hardware: 10 out of 10

We tried three different V2 batteries (all included in the Ultimate Kit) – standard auto, standard manual and long auto.
V2's site claims that the manual battery will allow you better control and more vapor per puff. We found the opposite to be true – the automatic more accurately mimics the act of smoking a real cigarette, giving you more control over the amount of vapor and providing a better all-around experience.
The manual battery detracts from the smoking experience by relying on your finger to control the amount of vapor produced. Relying on your finger to produce smoke or vapor is a foreign experience for a longtime smoker.
There was no identifiable differences in experience between the long and standard automatic batteries other than battery life.
The charging case and carrying case are both useful and stylish. The different charging options include USB, standard wall outlet, charging case and car charger. There is also a "power cig" that you can smoke while plugged into an energy source.
We liked the variety of options for charging – especially the USB. Lastly, I wouldn't be caught dead carrying an e-cig attached to a bright red lanyard draped around my neck, but for those who want this option, V2 provides it.
Flavors: 10 out of 10
As previously mentioned, I'm a longtime Marlboro Red smoker, so trying fancy and fruity flavors is a new experience for me. I will always personally prefer the "regular" cigarette flavors but will try to be as open-minded as possible when it comes to the others. (If I were some kind of tool, I'd give you the best nicotine flavor/alcohol pairing, but of course I'm not.)
We tried the following flavors for our V2 cigs review:
Red 18 – Hands down my favorite flavor cartridge, not just of the V2 brand but also of every e-cig brand on the market. This has a true full flavor cigarette taste and will satisfy even the most black-lunged lifetime smoker. V2 knocked it out of the park with this one. And hey, it goes great with a smooth, neat glass of Maker's. Just sayin'…
Sahara 18 – I was skeptical at first as the name makes one think of smoking a lungful of sand, but the flavor turned out to be very smooth and just a bit lighter than the Red. I would recommend for smokers of Marlboro 72's or comparable cigarettes. Grab a Sahara 18 and a Jack and Coke and you're set for the night.
Menthol 18 – A strong menthol kick that is certain to please any fans of this flavor. You really get the true icy cold feeling on the inhale. A crisp, dirty martini wouldn't hurt its icy flavor.
Grape 18 – I would not recommend this flavor as it tastes like inhaling children's grape flavored medicine. Stay away. But if you have to try this one, maybe some Robitussin would enhance the medicinal notes? (Again, I'm not suggesting this, I'm just letting you know.)
Mint Tea 18 – An interesting cartridge that combines a cool mint/menthol effect and a mellowing tea flavor. The first time is pleasing but the subsequent puffs become bland. I probably wouldn't be able to go through a whole five pack of these but it's not bad for one or two puffs every once and again. For some reason, it makes me crave a Mint Julep, but maybe that's just me.
V2 Cigs Review Final Score: 9.8 out of 10

Review Box 0