SigEcig is a solid choice among pre-filled rechargeable starter kits. The small, stylish battery produces a surprising amount of vapor on each puff. Add extremely long battery life to the list of positive attributes, and you have a winner.
Buy SigEcig If You:
Want to enjoy a high end product engineered with perfection at an economy price
Value flavors that are crafted to perfection rather than a huge selection of average flavors
Want a small, stylish battery that's easy to carry around, but don't want to sacrifice on performance

SigEcig Coupon
Use our exclusive SigEcig coupon code to get 15% off all SigEcig products. Simply click the coupon below to reveal the code. The SigEcig site will open up in a new window. Enter the code at checkout to receive your discount.
Vapor + Throat Hit: 9 out of 10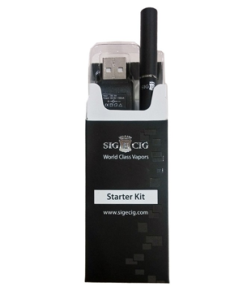 For such a small battery, the SigEcig puts out a ton of vapor. We were pleasantly surprised by the vapor clouds we were getting on each puff. Maybe the most important differentiator for SigEcig products is how closely they emulate the draw of a traditional cigarette. With some ecig brands it's so difficult to get a good draw that it's not even worth the effort. Not so with SigEcig. The vaping experience is effortless and the throat hits are super smooth.
Battery + Hardware: 9 out of 10
SigEcig went for a minimalist, elegant design and it really works. The battery is stainless steel and definitely feels like it's constructed from high quality materials. The battery is small enough to comfortably carry around in your pocket. The matte black color is very impressive.
What really impressed us was the battery life. For being so small, the battery lasts a long, long time. The SigEcig site says the battery lasts for 300 puffs on a full charge. We were definitely able to vape this all day on a single charge. For the best battery life, make sure to recharge via the USB charger as opposed to a wall outlet.
Price ($9.99 – $24.99): 10 out of 10
Stainless Steel Single Use Disposables are $9.99, or 5 for $29.99, available in Classic Tobacco and Premium Menthol.
The SigEcig Rechargeable Starter Kit is $24.99. It includes:
– 1 rechargeable stainless steel battery
– 1 Classic Tobacco cartomizer
– 1 additional 5 pack of cartomizers (your choice of flavor)
– USB charger
Flavors: 8 out of 10
SigEcig has definitely mastered the nicotine flavors they offer. The throat hit for each flavor is perfectly engineered and calibrated for that exact vaping experience. Their tobacco flavors are some of the best we've vaped. The only reason they are losing a couple points in this category is because of the lack of flavor selection, and the fact that you can only choose 18mg nicotine for each flavor. We vaped the following SigEcig flavors:
Classic Tobacco – This is as close to a real cigarette experience you'll get with an ecig. The throat hit is perfectly strong but it's still extremely smooth.
Premium Menthol – A great menthol flavor, icy and refreshing. The throat hit has a bite.
Signature Crown Tobacco – A deliciously nutty Turkish blend of tobacco with a hint of coffee.
Signature Vanilla – A great vanilla flavor. This one is the smoothest of all the flavors.
Signature Red Energy Blend – This flavor truly tastes like a Red Bull energy drink.
Warranty + Customer Service: 9 out of 10
SigEcig offers:
– 30 Day Money Back Guarantee
– 180 Day Warranty
Their customer support team is absolutely fantastic.
SigEcig Review Final Score: 9.0 out of 10


Make sure to check out all of our e-cig reviews, e-juice reviews, coupons, resources and contests.

SigEcig Review