The vaping community received some unexpected, but certainly welcome, support on Sunday from two huge celebrities. Leonardo DiCaprio and Julia Louis Dreyfus both vaped on camera during the Golden Globes awards ceremony. With anti-vaping legislation being passed by a number of states, it's good to get support from high profile figures like Leo and Julia.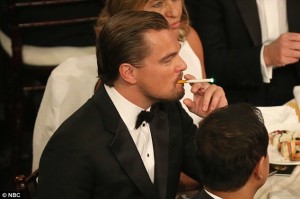 Leo DiCaprio puffing away at his table. What is he vaping? Eversmoke or South Beach Smoke?
And it looks like Julia Louis Dreyfus might be enjoying a Halo E Cig G6.
Which celebrities would you most like to see vaping?