Our Firebrand e-cig juice review covers 12 flavors; Apple Pie, Cinna-Swirl, Super Fuzz, Tobacco Royale, Special Blend Tobacco, Strawberry Silk, Menthol Red X, Elvis, Mango Lassi, Peppermint Patty, Purple Rain and Spartacus.
Firebrand E-Cig Juice – Apple Pie:  10 out of 10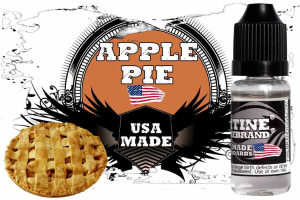 I can't stop vaping this Firebrand e-cig juice. Apple Pie is my new All Day Vape. It might be the tastiest e-juice I've ever tried. Firebrand's craftsmanship is superb. The flavor is exactly as advertised, it tastes like a homemade, fresh-out-of-the-oven, apple pie.
The throat hit is absolutely perfect – strong enough to let you know you're vaping a damn good juice, but not overly strong. The vapor production is excellent, I was exhaling cloud after thick cloud of tasty apple pie vapor.
Price:  $7.99 (10mL bottle)

Firebrand E-Cig Juice – Cinna-Swirl:  10 out of 10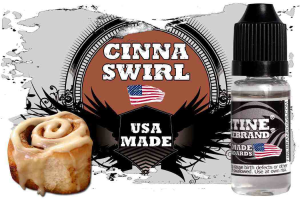 Cinna Swirl is yet another incredibly tasty juice from the Firebrand e-cig crew. This one tastes like a delicious cinnamon roll. You get a powerful, cinnamon blast with each puff, and you even get a hint of icing on top. Amazing. The throat hit is perfect, and the vapor production is huge.
I usually vape this Firebrand e-cig juice in the morning with a cup of coffee. I challenge anyone to find a better way to start the day.
Price:  $7.99 (10mL bottle)

Firebrand E-Cig Juice – Tobacco Royale:  10 out of 10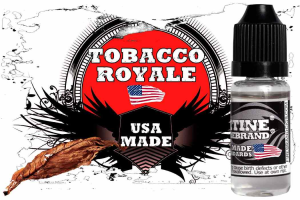 Tobacco Royale. The Firebrand e-cig guys make two of my all-time favorite tobacco flavored juices, Tobacco Royale is one of them. It's a robust, bold tobacco flavor with strong nutty tones. A lot of tobacco flavored juices go wrong with a throat hit that is more intense than necessary. The Firebrand e-cig blender understands how to mix a juice with a perfect throat hit. Strong but smooth. The vapor production is massive.
I'll say it again, you can't go wrong with any Firebrand e-juice. If you're looking for a tobacco flavored e-juice with more complex flavors and a bit of sweetness, check out Firebrand's Special Blend Tobacco.
Price:  $7.99 (10mL bottle)

Firebrand E-Cig Juice – Mango Lassi: 10 out of 10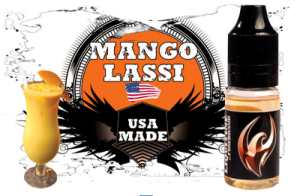 Another exciting Firebrand flavor! This time, the taste hails from a traditional, creamy Indian drink that mixes a tangy Mango scent with a sweet cream. The e-juice gets this blend just right resulting in a refreshing, tangy flavor.
The Mango Lassi e-liquid provides a smooth throat hit, and while we found it a little on the "light side," it's perfectly satisfying and can be enjoyed all day. In fact, this has become one of our new All Day Vapes.
Firebrand E-Cig Juice – Spartacus: 10 out of 10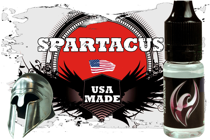 This batch of e-liquids continues to surprise and impress us and this Spartacus flavor does not disappoint. It's totally unique in that its scent/flavor is sweet, like a sugary Greek dessert, with just a dash of savory elements, almost like honey-dripped bacon.
Just like the warrior it's named after, the throat-hit will rise up and fight for your attention. It's distinctive and strong and will not be easily forgotten.
Firebrand E-Cig Juice – Peppermint Patty: 10 out of 10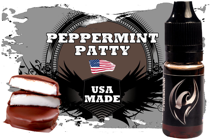 One of our absolute favorites from this brand, the Peppermint Patty e-liquid is easily one of the most refreshing vaping experiences we've had. The smell/taste is a perfect blend of peppermint and light chocolate truffle and frankly, it never gets old. It's a great All Day Vape, but it's especially refreshing after a hearty meal. It's an excellent way to vape, while simultaneously satisfying your sweet tooth.
Even though the taste is light and smooth, this e-juice's throat-hit has a little bit of a bite to it, which is an extra bonus.
Firebrand E-Cig Juice – Special Blend Tobacco:  10 out of 10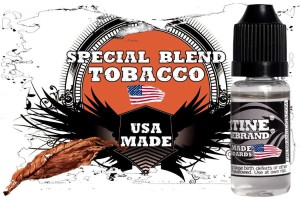 Special Blend Tobacco has everything you want in a tobacco flavored e-juice. It's complex, it's strong, it's smooth with a hint of sweetness, and I think I even tasted some maple in there. It's such a rich and complex flavor, I'm still discovering new notes with each vape.
This level of high-quality, master-blend e-juice reaffirms my decision to quit smoking regular cigarettes. The throat hit is a perfect strength, reminiscent of a real tobacco cigarette. Vapor production is huge on each puff. If you want a tobacco e-juice with a nuttier flavor, look no further than Firebrand's Tobacco Royale.
Price:  $7.99 (10mL bottle)

Firebrand E-Cig Juice – Super Fuzz:  10 out of 10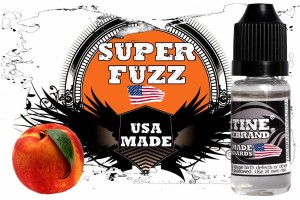 I used to shy away from sweet, fruity flavors, but Firebrand has officially changed my mind; first with the outstanding Apple Pie, and now with the delicious Super Fuzz. When you vape this e-juice, you'll be convinced you're biting into a sweet, juicy Georgia peach.
The vape starts with a blast of peach, and tapers off to a more subtle peach ice cream type of flavor. It is wonderful. The throat hit is so smooth. Vapor production is great.
Price:  $7.99 (10mL bottle)

Firebrand E-Cig Juice – Menthol Red X:  10 out of 10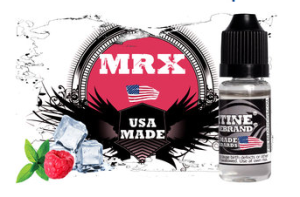 The Firebrand e-cig crew has managed to change my vaping habits yet again with Menthol Red X (or MRX as they call it on their website). I didn't care for menthol cigarettes back when I was a smoker, and since switching to vaping I've stayed away from menthol except for review purposes. So I was legitimately surprised, in a good way, when I tried Menthol Red X, then kept vaping it for a couple days straight.
It's a perfect blend of the menthol icy mint flavor with a strong blast of raspberry fruitiness. Neither flavor is overwhelming and it truly makes for a great, relaxing All Day Vape. The throat hit is perfectly strong and vapor production is fantastic.
Price:  $7.99 (10mL bottle)

Firebrand E-Cig Juice – Elvis: 9 out of 10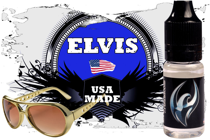 When you think of Elvis, what comes to mind? Hip gyrations? Hound dogs? Or are you like the Firebrand e-cig folks and immediately think of his favorite meal: the peanut butter, bacon and banana sandwich? While the smell and taste is more peanut butter than banana or bacon, this juice hits the spot if you're looking for a savory flavor.
It's a medium throat-hit, so it should equally satisfy your craving to vape with your craving for a sandwich. It loses a point for its lightness on the bacon taste, but it gets high marks for being delicious.
Firebrand E-Cig Juice – Purple Rain: 8 out of 10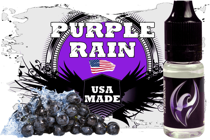 There are lots of layers to this Firebrand e-juice and they slowly reveal themselves as the vaping continues. There's a nice whiff of grape which morphs into a refreshing apple flavor, with maybe a hint of a lavender garden after a rainstorm. (Yeah, that's specific, but that's what we're here for!)  The hints of a sour note, which give it that "apple quality," aren't for everyone, but we feel this e-juice is certainly worth trying.
It hits the throat smoothly and stays light for a nice afternoon vaping experience.
Firebrand E-Cig Juice – Strawberry Silk:  8 out of 10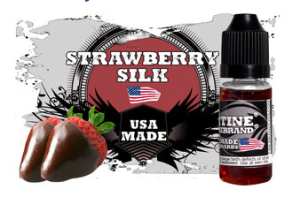 The Firebrand e-cig team tried to create a chocolate covered strawberry juice and they almost nailed it. This juice is still great, but I'm rating it just a little bit lower than their other 6 e-juices. The strawberry flavor is good but it's a bit too subtle. And the chocolate part of the flavor didn't really come through.
It might have just been my batch or bottle that was off. If you're a fan of chocolate covered strawberries, it's probably worth giving this e-juice a shot. The throat hit and vapor production were both a step below the other Firebrand e-juices.
Price:  $7.99 (10mL bottle)

Make sure to check out our other expert e cig reviews, e-juice reviews (like Halo e juice), and don't miss any of our exclusive e cig coupon codes. If you're looking for e-cigs made specifically for women, check out Vapor Couture. For more info, check out our Vapor Couture review.