Our review has the Bloog e cig ranking up there with the very best ecigs. Bloog is a perfect example of an intermediate level ecig. It's incredibly easy to fill with e-juice, the vapor production is excellent, the throat hits are perfect, the battery lasts a long time and it's small enough to carry around in your pocket.
We got the Bloog e cig 650 H2 starter kit for our review and for all the reasons listed above plus the very reasonable price, we highly recommend this starter pen kit.
Buy the Bloog 650 H2 Starter Kit If You:
– Want an economically priced intermediate level e-cig of the highest quality
– Like to vape a variety of e-juice flavors and want an e-cig that's easy to fill
– Want an intermediate level e-cig that is easy to carry around during your daily routine


Bloog E Cig Coupon
Check out our Bloog E Cig coupon codes to get an incredible 50% off all cartomizers and 10% off your entire Bloog E Cig order. Click the coupons below to reveal the codes. The Bloog site will automatically open in a new window. Enter the codes at checkout to receive your discount.
Bloog E Cig Coupon 10% Off Entire Order 
[coupon name="bloog 10 off" id="40″]
Bloog E Cig Coupon 50% Off Cartomizers
[coupon name="bloog carto 50 off" id="41″]
Vapor + Throat Hit:  10 out of 10
The Bloog e cig 650 H2 is a vapor monster. You'll be puffing huge, thick clouds each and every time you press the button on the battery. The vapor production ranks up there, no joke, with our Vapor Zeus review. We tried four different Bloog e cig liquid flavors and the throat hits were perfectly calibrated across the board.
Battery + Hardware:  10 out of 10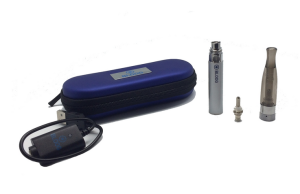 The Bloog 650 H2 kit comes with a high quality, long-lasting 510 threaded manual battery. The color is stainless steel and it feels like the battery is constructed from high quality stainless steel. We were able to vape for about 8 hours before having to recharge the battery. So you can leave the house with your Bloog and vape all day on a single charge. Recharging is fairly quick.
The clearomizer (where you fill the e-liquid) is totally see-through, so you're able to see the vapor trail work its way through the e-cig. Very cool feature.
Our favorite thing about the Bloog e cig is how easy it is to fill it with e-liquid. Many refillable e-cigs require too much precision to refill. Not the Bloog. Simply unscrew the clearomizer, you'll see the huge fill opening, squeeze in about 1.5mL of e-liquid and you're good to go.
The Bloog e cig 650 H2 kit also comes with a replacement atomizer in case you burn out the first one.
Price ($34.99):  10 out of 10
Our Bloog e cig review covers the Bloog 650 H2 starter kit. At a price of $34.99, this kit is an outright steal. You can't find a high quality e-cig starter kit like this at such a low price. The Bloog 650 H2 starter kit includes:
– 650 H2 battery with 510 threading
– 1.5mL clearomizer
– USB charger
– Replacement atomizer
– Softpack carrying case
It's important to note that the starter kit does not come with a free bottle of e-liquid. However, you have the option of purchasing a bottle of e-liquid at half-price when you buy the kit. Either way, it's a deal.
Flavors:  8 out of 10
This is the only category where the Bloog e cig review loses points. We were a little underwhelmed with the Bloog e-liquid flavors. It may simply be a case of not choosing the right flavors for us, but overall, the e-liquid didn't blow our minds like some other brands (Firebrand E-Cig).
Bloog has a class of e-liquid that they are calling "Viquid." This is manufactured under the strictest guidelines with all ingredients sourced and produced in the USA. We give Bloog high praise for leading the industry in that regard.
We tried the following Bloog e cig juice (Viquid) flavors:
All American (1.8% nicotine) – This is their boldest flavor and most closely resembles a real cigarette. It fell a bit short in the taste category for us. The throat hit was perfect, though.
Dulcis (1.8% nicotine) –  This was our favorite flavor. We loved the complex mix of tobacco and caramel. This became our All Day Vape. It's absolutely fantastic. Throat hit is on the money.
Glacies (1.8% nicotine) – We also really enjoyed this one which is Bloog Viquid's take on the menthol flavor. We're generally not menthol fans, but this had such a delicious icy flavor and perfect throat hit, we actually changed our minds on menthol.
Pomona (1.8% nicotine) – This flavor is sweet and tart with a mix of berry. We enjoyed vaping this flavor for a bit, but eventually the tartness overpowered the sweetness. The throat hit is great.
Warranty + Customer Service:  10 out of 10
Bloog offers the following warranty:
90-day Warranty:
Bloog will replace any and all defective electronic equipment within 90 days, effective the day you receive your product. All Bloog batteries, pass-through's, wall adapters, USB chargers, and Personal Charging Cases fall under Bloog's 90-day warranty. Cartomizers, clearomizers, disposables, and Liquid Fuison juices do not fall under Bloog's 90-day warranty.
Bloog 35-day Money Back Guarantee:
Your experience with Bloog products will be to your complete satisfaction, or we will refund 100% of the purchase price. Electronic cigarette starter kits may be returned for a Full Refund within (35) days of receipt, giving you (1) full month to try your new Bloog kit! All other Bloog products also fall under the Money Back Guarantee. For health and sanitary reasons, opened cartomizers, clearomizers, Liquid Fusion bottles, and disposables are non-returnable.
Bloog's customer service team is one of the best in the business.
Bloog E Cig 650 H2 Starter Kit Final Score: 9.6

Make sure to check out all of our e-cig reviews, e-juice reviews, coupons, resources and contests!

Bloog E Cig Review for 2022 – 650 H2 Starter Kit