Our Vapor4Life review proves the Vapor Zeus to be the best advanced vape pen available on the market. There is nothing negative to say about the Vapor Zeus. It consistently produces huge vapor clouds, the throat hit is always fantastic, and all the Vapor4Life juices are super smooth.
If you're looking for the best beginner/intermediate level pre-filled e cig, head on over to our V2 review (and sister brand Vapor Couture review).
The Zeus lives up to its namesake – it truly is a god amongst men. Read on to find out why.
Buy the Vapor4Life Vapor Zeus Starter Kit if You:
1.  Want to graduate from pre-filled big brand rechargeable e-cigs to a more advanced and satisfying vaping experience.
2.  Want a battery that not only looks bad-ass, but backs it up with immense vapor and all day (and night) lasting power.
3.  Want a huge variety of carefully crafted e-liquid that tastes amazing and gives you a smooth throat hit.

Vapor4Life Coupon:
Our exclusive Vapor4Life coupon codes give License To Vape readers huge savings in the Vapor4Life store!
Click each Vapor4Life coupon below to reveal the code. The Vapor4Life site will open up in a new window. Simply paste the coupon code into the box at checkout for your discount – make sure to check out their top-ranked Vapor Zeus Starter Kits.
$10 Off Vapor4Life Starter Kits
%20 Off Titan Starter Kits
Stay up to date on all of our Vapor4Life coupons. Check out our coupon page for all of our exclusive electronic cigarette coupon codes!
Vapor + Throat Hit:  10 out of 10
That's right, our Vapor4Life review is starting off with a perfect score. The Vapor Zeus earns it by producing a huge amount of vapor every time you draw on the battery. The vapor is thick and gives you a perfectly satisfying throat hit. It's just powerful enough to make you forget about analog cigarettes, and so smooth it doesn't make you cough or sputter.
The vapor production was equally impressive in both automatic and manual modes.
The instructions that came with our vape kit say to use 60-90 drops of e-liquid for the small refillable cartomizer (called smileomizer by Vapor4Life). We found that the ideal amount of drops is closer to 60 in order to get the perfect amount of vapor and perfectly strong throat hit.
There are so many e-cigs out there that don't get the right balance of throat hit strength and smoothness, trust us – the Vapor Zeus nails it.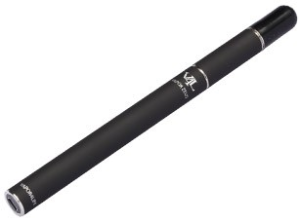 Battery + Hardware:  10 out of 10
We got the black Dual Mode battery (900mAh) in our Vapor Zeus starter kit. On one charge, it kept us vaping for two days straight. The 900mAh is plenty powerful and gives you one hell of a vapor output.
The battery is about the size of an average cigar so you're not going to fool anyone into thinking your smoking a regular cigarette. But the black battery looks so sleek and bad-ass, I was proud to show it off as much as possible.
Vapor4Life advertises the Vapor Zeus as the only e-cig battery that offers both automatic and manual modes in the same device. My initial thought was, hmm… this is a bit gimmicky. However, after vaping the Zeus all day, I really enjoyed switching back and forth between auto and manual. I know I'm in the minority on this, but I prefer the automatic mode.
Our Vapor Zeus starter kit came with the small smileomizers- this is Vapor4Life's version of refillable cartomizers. You put 30 drops of your e-liquid of choice into the smileomizer. Let it settle for about 5 minutes, then put another 30 drops in. Let it settle for another 5 minutes and you're ready to go. As noted above, we found the ideal number of drops to be right around 60.
Despite not being ready-to-vape cartridges, the smileomizers are very easy to use and I've had nothing but great vapes after refilling 10 times.
You get a USB charger and a slim wall charger with the starter kit.
Another cool thing is the battery doubles as a passthrough. We didn't know what a passthrough was when we first started vaping, so I'll explain it here. It simply means you can plug the Vapor Zeus into a USB port and vape while it's plugged in.
Price ($69.99 – $89.99):  9 out of 10
Our Vapor4Life review covers the Vapor Zeus Starter Kit. At $99.95, the kit at first glance appears to be a bit on the spendy side. However, you really are paying for an exceptionally high-quality device. Before you look at the prices of ready-to-vape pre-filled starter kits from other brands, you need to take into account that the Vapor Zeus is a more advanced and satisfying vaping experience.
The following items are included in the Vapor Zeus Starter Kit:
– Vapor Zeus Dual Mode battery (both manual and automatic modes available in the battery). Battery doubles as a passthrough.
– 2 Smileomizers
– 1 30ml bottle of e-liquid
– 1 USB charger
– 1 Slim wall charger
The small smileomizer holds approximately 3.5ml of e-liquid and can be refilled over 12 times. You get a 30ml bottle of e-liquid in the kit. I smoked a pack per day and I've been using about 3ml per day of the e-liquid. Each small smileomizer is equivalent to about 7 packs of regular cigarettes.
A smileomizer replacement will run you about $6. And a 30ml bottle of e-liquid – which should last you 10+ days – is about $12. So you're spending about $18 every 10 days. I was spending about $70 every 10 days on regular cigarettes. That's a hell of a lot of savings.
We're deducting a few points in the price category due to the lack of a carrying case.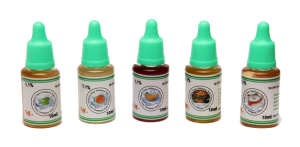 Flavors:  10 out of 10
Our Vapor4Life review covers four flavors. The Vapor Zeus Starter Kit includes one 30ml bottle of e-liquid. We went ahead and got 3 additional flavors to give you guys a better review. We vaped the following four flavors:
– WOW Vapor Traditional Tobacco (18mg nicotine) – Vapor4Life really knocked it out of the park with this flavor. My clear favorite. It has all the flavor notes that I loved in regular tobacco cigarettes. I really enjoyed the subtle note of butterscotch. This is definitely my new ADV (All Day Vape). The throat hit is perfectly strong without any irritation. Vape this with your morning cup of coffee and you'll start your day off perfectly.
– Kiwi Apple Strawberry Nobacco (24mg nicotine) – This was my second favorite flavor. It tastes exactly as advertised. Fruity and light, it's great for vapers who prefer non-tobacco flavors. The great thing about this flavor is it tastes like real fruit. It doesn't cross the line into the nasty medicine-y taste like some other e-cig brands. Very smooth throat hit.
– Vanilla Mocha Frappe Nobacco (18mg nicotine) – Tastes like an icy, frothy coffee drink. It also resembles a sip of Kahlua and cream. This was a bit too sweet for me to be an All Day Vape. I did enjoy vaping it after meals, though. The throat hit could have been a little bit more smooth.
– Cinnablaze (24mg nicotine) – Some people are going to flip for this flavor, but it wasn't my favorite of the bunch. It is definitely cinnamon and definitely strong. It had a very intense throat hit and the cinnamon alternates between hot and icy. An interesting combo. Just like the Vanilla Mocha, I could recommend this for an every once-in-a-while vape, definitely not in the regular rotation.
Warranty + Customer Service:  10 out of 10
Vapor4Life offers a 30 day money back guarantee and a one year warranty. Their customer service team is the best I've dealt with.
Vapor4Life Review Final Score:  9.8 out of 10

Check out the rest of our unfiltered, expert reviews! Need an e-cig specifically for women? Check out Vapor Couture.
Vapor4Life Review in 2022