The WetFlame e cig brings a lot to the table; massive (and we mean MASSIVE) vapor output, good selection of tasty juices, and competitive pricing for the Nova starter kit. The WetFlame Nova kit is in a solid position among our top rated pen starter kits. If you're looking for the best pre-filled e-cig starter kit, check out our V2 Cigs review (and sister brand Vapor Couture).
Buy the WetFlame E Cig Nova Starter Kit If You:
– Want an ENORMOUS vapor cloud every time you take a puff. Seriously, the Nova will make you look like Snoop Dogg.
– Prefer the above mentioned huge vapor production to more pronounced throat hits.
– Want a refillable e cig that is easy to use, easily portable and smaller than most other refillable e cigs on the market.

WetFlame Coupon Code:
Our exclusive WetFlame coupon code gives License To Vape readers 10% off any WetFlame Starter Kit.
Click the WetFlame coupon below to reveal the code. The WetFlame site will open up in a new window. Simply paste the coupon code into the box at checkout for 10% off every WetFlame e cig product – including their top ranked Nova Starter Kit.
Vapor + Throat Hit:  9 out of 10
The WetFlame Nova is tough to judge in this category because some vapers prefer a more subtle throat hit to a more pronounced one. The Nova is in the "subtle throat hit" category and that's the only reason for the 1 point deduction. If you want to barely feel the throat hit, consider the score a perfect 10 out of 10.
As previously mentioned, the Nova is a beast when it comes to vapor production. You're going to get a massive cloud of vapor on each puff. Some e-cigs take a few puffs to "warm up" before giving you satisfying hits. Not the Nova. From the first puff, I was exhaling beautifully big vapor clouds.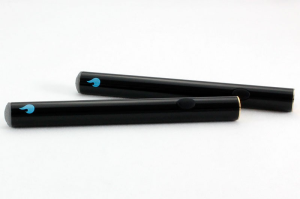 Battery + Hardware:  9 out of 10
This WetFlame e cig review covers the Nova Starter Kit, which comes with two 3-part e cigs. The 3-part e cigs consist of, battery, atomizer and flavor cartridge. I prefer 2-part set ups more than 3-part just because it eliminates one step from the vaping process. However, the Nova system is quite simple and the flavor cartridge is much, much easier to fill than the similar Halo G6.
You simply pop the top from the cartridge, put in about 10 drops (or a bit more), pop the top back on, screw into the atomizer, and screw that into the battery. And you're vaping.
The Nova loses a point mainly due to the feel and appearance of the e-cig. There's no other way to describe it than a bit cheap looking. It doesn't feel anywhere as sturdy and long-lasting as the Vapor Zeus. Don't get me wrong, the design isn't offensive, it just doesn't look as good or feel as good as some of the other e-cig brands.
If appearance doesn't really matter that much to you, you'll be very satisfied with the performance of the Nova.
Price ($59.99) – 9 out of 10
At $59.99, the WetFlame e cig Nova kit is a little pricier than similar starter kits like the Halo. However, WetFlame includes a bottle of e-juice when some other e-cig brands make you buy the juice separately. Plus, you get a carrying case, which is always a nice addition. So overall, $59.99 is a pretty fair price for what you get. Your Nova kit includes:
– 2 manual batteries
– 2 tank atomizers
– 5 blank cartridges
– 1 10mL bottle of WetFlame e-liquid (your choice of flavor and strength)
– 1 USB charger
– 1 wall charger
– 1 carrying case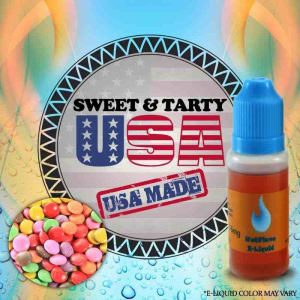 Flavors:  8 out of 10
Our WetFlame e cig review covers 3 e-juice flavors. Overall, the WetFlame e-juice flavors are very tasty, but the flavors don't come through as strong as I'd like. And WetFlame loses another point in this category due to the weaker throat hits for each flavor. It seems like WetFlame excels with the fruitier flavors but comes up a bit short with the tobacco flavors. We tried the following flavors:
Tobacco Flavor (16mg) – This is a standard tobacco flavor without a strong throat hit. If you want a taste reminiscent of the cigarettes you used to smoke, but much mellower, this is a good choice. The vapor output is fantastic.
Sweet & Tarty (16mg) – A good choice for vapers looking for juice with a fruity flavor but not overwhelmingly sweet. In fact, it might even be better with bolder flavors. We liked how the tartness offset the sweetness.
Gummi Bear (16mg) – An interesting take on a globally recognized flavor. It does taste somewhat like gummi bears, with a twist of cinnamon in there. Continuing the theme, this juice would be better with a more pronounced flavor. It's a bit too subtle.
Warranty + Customer Service:  9 out of 10
The WetFlame e cig warranty is pretty standard, although it could offer more protection. That's why WetFlame loses a point in this category. Their customer service is excellent.
The WetFlame warranty covers:
– Batteries, Chargers, Charging Packs – 1 year limited warranty
– Other accessories – 1 year limited warranty
There is a 30 day limited return policy for unopened/unused products.
WetFlame E Cig Nova Starter Kit Final Score:  8.8

Check out the rest of our unfiltered, expert reviews! Female vaper looking for e-cigs tailored for women? Check out our Vapor Couture review.
WetFlame E Cig Review in 2022 – Nova Starter Kit