Our VaporFi review proves this new company is certainly deserving of one of the top spots among advanced e-cigarettes for all that they offer. They manage to keep prices reasonable, have tons of different options, and the performance is on point.
Our Vapor Zone review covers their Pro Starter Kit, and I was wholeheartedly impressed with every category I'll delve into below. VaporFi is becoming really well known, really fast, and it's because they are just that good.
Buy The VaporFi Pro Starter Kit If You: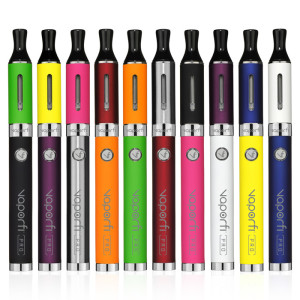 1. Want to upgrade your vaping experience with a better quality, more advanced e-cig model. If you want battery power that can produce massive clouds of vapor and not die on you quickly, this baby lasts a whole day at minimum.
2. Want hundreds of flavor options. VaporFi offers dozens of flavors you can custom blend, in a multitude of different shot quantities so your choices in flavors hits somewhere around the 30,000 mark.
3. Want to try out these advanced vaporizers you keep hearing about, but have been intimidated because they look so high-tech. The VaporFi Pro is advanced without being complicated, plus they provide a ton of info to make it go easier on you whether you are a seasoned pro with these types of e-cigs, or you're a beginner. This Pro is a no-fail vape.


VaporFi Coupon
Our exclusive Vapor Zone coupon gets you 10% off your entire order from the VaporFi store (excluding e-liquids). Simply click any of the yellow "Visit Site Now" buttons and your discount will be automatically applied at Step 2 of the checkout process. Or simply click here.
Vapor + Throat Hit: 10 out of 10
If you want performance in the way of vapor production and throat hit, the Pro has no problems delivering. With a 650mAh battery, this machine lacks no power, and this totally comes through when vaping. With a good amount of experience using different models, I am really pleased with how much vapor I get out of this. The throat hit is strong enough to please any smoker or experienced vaper, and it comes on clean with no burning.
Battery + Hardware: 9 out of 10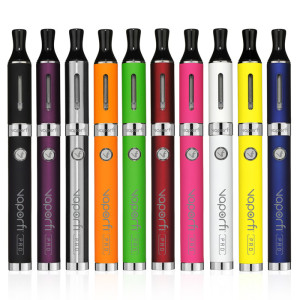 During our VaporFi review, we realized the quality of the Pro starter kit and its components is really outstanding. The look and feel of this e-cigarette is great, you can tell how well made, and well designed it is right from the start. Big points for the unique look as well, because there are no other vaporizers that look like this one.
It really can perform, boasting 650mAh power, and the battery lasts all day (24-hour period of steady use) on a single charge; hell yeah! You also have the ability to put the battery into standby/ hibernation mode, which helps conserve battery power that much more when it's not in use. Only reason we are not giving this amazing vaporizer a 10 here is that it does not have variable voltage, which would have made it an absolute dream. I know VaporFi has other models with the variable voltage, but for this particular VaporFi review, I'm talking about the Pro.
Setting up at first may seem tricky; follow the directions. When pouring the e-liquid, just like they say, pour it into the sides of the cartomizer, and not in the center tube or you will have problems. Also, when they say don't fill more than 75%, pay attention because if you're looking for performance, this is where it needs to be. I have nothing negative to say in terms of how the VaporFi Pro performs.
Price: ($79.99) 10 out of 10
The VaporFi Pro starter kit more than satisfies here as similar kits, with less accessories are going for more. You get an unbelievable vaporizer, with great features, power, and ability for less than other guys; if you want quality that's affordable, here you go. The fully-loaded VaporFi Pro starter kit comes with:
– 650mAh Vaporizer
– Cartomizer
– 3 Atomizers
– Wall Charger
– USB Charger
– User Manual
– Membership Card
Flavors: 10 out of 10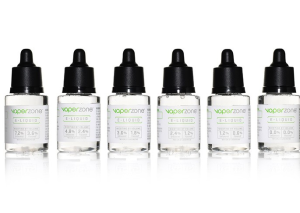 Not a bad price on their e-liquids; $14.99 per 30ml bottle, even custom blended.
As far as flavors go, these are as excellent as flavors get. For our VaporFi review, I vaped Classic Tobacco, Menthol Ice, Juicy Fruit, and the Godfather blend; figuring it was a well-rounded assortment that covered a lot of their different choices.
Classic Tobacco – Clean and full of flavor, just like a straight up American type tobacco. I am definitely a tobacco person (or used to be), so this was right up my alley. I would be satisfied if this was my only flavor option, and they really get how tobacco should taste. Not too sweet, not burnt, not like cardboard; simply strong, delicious tobacco.
Menthol Ice – This is a solid, cool menthol, did not come off as minty, and was really cooling.
Juicy Fruit – This is a blend of Watermelon and Strawberry, it was sweet and pretty juicy in flavor, I love when vapor can do that!
Godfather – This was the coolest flavor, in my opinion. It's a blend of Amaretto and Bourbon, and I don't know how they did it but it really tastes like the cocktail.
When it comes to flavor choices, there really is no comparison. No other company offers this much, and allows you to customize your flavor to this extent. More than 50 single flavors, in a whole wide range of different categories, ranging from dessert types, to alcoholic-beverage inspired ones, fruit flavors, tobacco flavors, menthol flavors; it can be really hard to pick just one. And then there is the whole custom -blending thing, which takes things even further into the range flavor bliss.
Not to mention, their liquids' quality goes even further than offering thousands of flavors. They use only the best sources, like Malaysian palm for their glycerin, and everything has been made with inhalation-grade ingredients. Didn't even know there was such a thing, but this means the quality is not just food-grade. Other ingredients are Kosher-grade, and all formulas are on file with the FDA for quality; apparently, VaporFi does not play around.
Warranty + Customer Service: 10 out of 10
They give you quite a bit of coverage here, with both a 30-day money back guarantee and a warranty. The 30-day money back deal goes for their website; if you purchase at their stores, check with the individual location. Otherwise, when you buy off VaporFi's site, you have a 30-day window to fall in love with the product or send it back. All items, with the exception of clearance items, cartridges, liquids, and atomizer heads have a 90-warranty from the purchase date. Completely fair, and very much reassuring that if something goes wrong, they got your back.
Excellent customer service! They are a really personable company, and whether you are dealing with them in one of their stores, or on the phones, email, or Facebook, I can say I've had nothing but 5 star treatment. Totally recommend VaporFi for this.
VaporFi Review Final Score: 9.8 out of 10

Make sure to check out all of our vaporfi reviews, e-cig reviews, e-juice reviews, coupons, resources and contests!

VaporFi Review in 2023 – Pro Starter Kit