Our Vapor King review covers the brand new WOW Vapor King disposable e-cig from Vapor4Life. We're generally not fans of disposable e-cigs because they usually fail to approximate anything close to a real cigarette smoking experience. Not so with the Wow Vapor King.
This little beauty packs a mean punch in a little disposable package. Great vapor production, outstanding throat hit, best disposable design we've seen and all at a fair price.
Buy the Vapor4Life WOW Vapor King Disposable If You:
– Are looking for an electronic cigarette that makes you think you're smoking a real tobacco cigarette.
– Are interested in switching to e-cigs, but want to try a low cost e-cig before jumping in the vaping deep end.
– Want an e-cig that lasts you a day or more, and when it's done you simply dispose of it.


Vapor4Life Coupon
Buy 1 Vapor King Disposable, Get 1 Free
[coupon name="vapor king buy 1 get 1 free" id="35″]
Make sure to check out the rest of our exclusive Vapor4Life coupon codes.
Disposable E-Cig Note:
Our review scores for disposables should be compared only to other disposable e-cigs. Since you're reading our Vapor King review, we're guessing you're in the market for a disposable e-cig and are looking for something that approximates the feel of smoking a real cigarette. An e-cig that you can pull out of the box, puff away and toss when it no longer produces vapor.
We're assuming you're not looking for a more advanced e-cig that has more a of a learning curve. For those who are curious about more advanced e-cigs, check out our Vapor Zeus review, V4L Dial A Volt review, V2 Cigs review, South Beach Smoke review, Halo E Cig review and all the other reviews.
On to the Vapor King review!
Vapor + Throat Hit:  10 out of 10
For our WOW Vapor King review we puffed on the vape pen for a day straight and were amazed by the consistent vapor production. We've never seen vapor clouds this big from a disposable e-cig before. The vapor clouds don't diminish in size the longer you vape. You'll keep getting satisfying puffs up until the very end of your e-cig.
The throat hits for both the tobacco and menthol flavored Vapor Kings are perfectly calibrated. Both disposables feel like you're smoking a real cigarette.
The "puff count" is the standard of measurement for disposable e-cig longevity. The Vapor King seems beat the puff count of most other disposable e-cigs.
Battery + Hardware:  10 out of 10
The Vapor4Life WOW Vapor King disposable beats the pants off every other disposable e-cig when it comes to design. The Vapor King truly looks and feels like a real cigarette. It even has a paper-like feel exactly like a cigarette. The only distinguishing characteristic is a thin band around the filter letting you know if it's a menthol or tobacco Vapor King.
The Vapor King is the size of a standard cigarette, making it easy to carry around in your pocket or purse. The Vapor King feels like it's constructed from high-quality material.
Price ($7.49):  9 out of 10:  9 out of 10
At $7.49, the WOW Vapor King is a bit more expensive than most other disposable e-cigs. However, we're firm believers in paying for quality, and the WOW Vapor King certainly meets our high standards. You should also compare the price of the Vapor King to the cost of a pack of cigarettes. The Vapor King e-cig is equivalent to more than a pack of regular cigarettes, so you're getting a pretty good deal when you think of it in those terms.
Flavors:  10 out of 10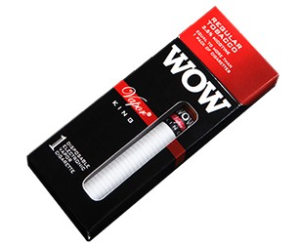 Our Vapor4Life WOW Vapor King review covers two flavors; tobacco and menthol. These are the only two nicotine flavors available right now. Both flavors are available in 2.6% and 3.6% nicotine content.
Tobacco (2.6% nicotine) – Out of all the disposable e-cigs we've tried, this is the most similar in taste and throat hit to a real cigarette. You'll get massive vapor clouds on every puff. The throat hit is similar to a regular Marlboro or Camel cigarette.
Menthol (2.6% nicotine) – This menthol flavor stands out from others due to the slightly thicker vapor clouds and slightly stronger throat hits. Most menthol flavors give you thin, weaker clouds and throat hits. This one packs a nice punch.
Warranty + Customer Service:  10 out of 10
Vapor4Life gives you the following warranty:
– 100% money back guarantee on all hardware
– Hardware may be returned within 30 days for a full refund
The Vapor4Life customer service team is well-trained and very helpful.
V4L WOW Vapor King Review Final Score:  9.8 out of 10