The V2 Cigs Pro Series 3 is the latest in vape pen product development from one of the biggest names in the vaping game. Did V2 get it right with the Pro Series 3? Absolutely, without a doubt, no question about it, YES.
Buy The V2 Cigs Pro Series 3 If You:
– Want to vape more advanced e-cigs but want a system that is very easy to use and enjoy.
– Want an extremely high quality ecig backed at a very reasonable price.
– Love vaping e-liquid, but hate the messy process of switching from one flavor to another.
– Not only want to vape e-liquid, but want a system that allows you to vape essential oils and loose leaf as well!


V2 Cigs Coupon Code 2014
Vapor + Throat Hit: 10 out of 10

We've all been wondering if V2 would come out with a tank style ecig to compete with the more advanced ecigs on the market. And they finally did with the Pro Series 3. When we received our package in the mail we had our doubts. Would V2 really put in the effort to make a truly superb advanced ecig? Or would they just sit back and put out minimal effort, letting their brand name do all the work? Well, after one puff on the Pro Series we knew the answer. They kicked some serious ass with this one.
The V2 Pro Series 3 is the smoothest hitting ecig I've vaped in quite some time. The vapor production is excellent. Each puff produces an enormous cloud of thick vapor. There is no inconsistency with this ecig, every time I took a puff, I received the exact same result. Pure vaping satisfaction.
Battery + Hardware: 10 out of 10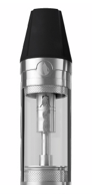 The Pro Series 3 battery is made out of super high quality stainless steel. The battery is about 5.6 inches long and approximately half an inch in diameter. The battery is manual which allows you the most control over each inhale. The 650 mAH battery is available in three colors; steel, black and blue. All of them are sleek and understated. Very, very nice.
The best part about the Pro Series 3 is the incredible ease of filling with e-liquid (or loose leaf and essential oil). The V2 Pro Series 3 comes with a 1.6 mL e-liquid cartridge that is magnetized. All you do is gently pull on it to separate from the battery, unscrew the top, drop in the e-liquid, put the top back on and it slides back into place automatically with the use of the magnets. It is so much easier than every other ecig out there. No mess, no clean up, it truly is a beautiful design.
Another aspect that really impressed us was the length of the charge. I vaped my V2 Cigs Pro Series 3 semi-regularly for a week without charging. I then went on a three week trip and discovered to my horror that I had left the Pro Series behind. As soon as I got back I grabbed the Pro Series and IT STILL HAD A CHARGE. Amazing battery life. The USB charger also doubles as a passthrough so you can vape while recharging.
And finally, one of the coolest innovations from V2 for the Pro Series 3 is the 3-in-1 aspect of the design and the Smart Technology. With the Pro Series 3 you can vape e-liquid, loose leaf and essential oils. The loose leaf and essential oil cartridges are sold separately. Make sure to put the loose leaf in the loose leaf cartridge and the essential oil in the essential oil cartridge, but that's really all you have to worry about. Simply pop in the loose leaf cartridge and the Pro Series 3 battery recognizes the change in cartridge and adjusts the vape to give you the optimum experience. Awesome. Of course, you don't have to buy the loose leaf and essential oil cartridges. Sticking with e-liquid is totally fine.
Price ($59.99): 10 out of 10
$59.99 really is a tremendous deal for an ecig as spectacular as the V2 Pro Series 3. The only drawback is e-liquid isn't included, but that's not enough to take away any points. Do yourself a favor and buy the Pro Series 3, you really won't regret it. The V2 Cigs Pro Series 3 kit includes:
– Series 3 Vaporizer
– E-Liquid Cartridge
– USB Charger
Flavors: 10 out of 10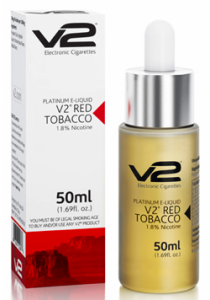 V2 also stepped up their e-liquid game and now offers a wide variety of finely crafted flavors. The following flavors are available:
– V2 Red
– Sahara
– Congress
– V2 Menthol
– Peppermint
– Green Tea
– Cherry
– Coffee
– Vanilla
– V2 Cola
– Grape
– Chocolate
Warranty + Customer Service: 9 out of 10
V2 warrants that your V2 Pro product will be free from defects in material and workmanship under normal use and service for six months. We think the warranty could be more comprehensive, hence the loss of a point.
The V2 customer service team is top notch.
V2 Pro Series 2 Review Final Score: 9.8 out of 10

Make sure to check out all of our e-cig reviews, e-juice reviews, coupons, resources and contests.

V2 Cigs Pro Series 3 Review