The NuvoCig look is distinctive – shiny stainless steel from tip to tip. This vape pen starter kit also distinguishes itself by producing consistently great vapor, giving you great flavor choices and providing extended battery use. We can recommend NuvoCig to any beginner and intermediate vapor.
Buy A NuvoCig Starter Kit If You:
– Want a no hassle e-cig that gives you great vapor production and throat hits on every puff.
– Need a battery that will last you all day (maybe more than one day!) on a single charge.
– Don't want to mess around with e-liquid, but still want great flavors from your cartomizers.


NuvoCig Coupon Code
Click the coupon below to reveal our exclusive NuvoCig coupon code good for 20% off all starter kits. The NuvoCig site will automatically open in a new window. Simply type in the code at checkout to receive your discount.
[coupon name="nuvocig kit code" id="45″]
Vapor + Throat Hit: 9 out of 10
When it comes to satisfying vapor clouds, generally we've found that cartomizer type ecigs are much less reliable than clearomizer (or tank) style ecigs. Not so with NuvoCig. We tried two different NuvoCig batteries, Standard and Ultimate. With each puff, we got a really great vapor cloud and good throat hits. The Ultimate Battery (manual) produced more consistently thick vapor clouds than the standard battery (automatic), hence the loss of a point in this category.
In fact, it was so easy and enjoyable to get a thick vapor cloud and perfect throat hit that we switched from our usual tank style ecig to the NuvoCig for a period of time.
In this category, NuvoCig ranks right up there our other favorite cartomizer ecigs including V2, South Beach, Halo and Epuffer.
Battery + Hardware: 9 out of 10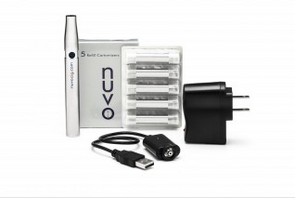 For our review, we tried the NuvoCig standard battery and the bigger, higher voltage Ultimate Battery. For their respective purposes, both batteries are damn near perfect.
The standard battery is automatic and comes in a sleek, stainless steel finish. It feels like it's constructed out of high quality material. In order to produce vapor, you simply need to draw on this battery like you would a regular cigarette. The vast majority of puffs were perfect, however, a few times the vapor clouds come out pretty weak. This can be a common issue with automatic cartomizer ecigs and it's why NuvoCig loses a point in this category. It's not a  big issue as it only happened a few times for us, but for full disclosure it's worth mentioning.
On the positive side, the battery is small enough to fit in your pocket and still powerful enough to produce great vapor clouds. It also holds a charge FOREVER. Seriously, it feels like you never have to recharge this thing. And when you do, the recharge is very quick.
NuvoCig really shines with their Ultimate battery. This thing is much bigger and has a much higher voltage than the standard battery which means bigger and thicker vapor clouds. It's also a manual which means you simply press a button to produce vapor. You can hold it down for as long as you want, longer hold means more vapor.
The Ultimate is designed to look like a tank style ecig even though it uses cartomizers like the standard battery. It's also a sleek stainless steel. It looks and feels like it's of very high quality design and construction.
And if you think the standard battery lasts forever on a single charge, then you're in for a shock with the Ultimate. We vaped the NuvoCig Ultimate battery pretty much nonstop for 3 days before having to recharge it. Unbelievable. The NuvoCig Ultimate is a beast.
Price ($24.99-$149.00): 7 out of 10
NuvoCig has a wide range of kits available for a wide range of prices, but they all share the common trait of being overpriced. We were really surprised to see the cartomizer refill packages selling for $19.99 (pack of 5 cartomizers). These prices are considerably higher than other ecig brands, but some of the kits offer value. We got the NuvoCig Deluxe Kit and Ultimate Battery Kit for our review.
The NuvoCig Deluxe Kit ($59.99) contains:
– 2 Standard Batteries
– 1 pack of 5 cartomizers (your choice of strength and flavors)
– USB charger
– Wall charger
The NuvoCig Ultimate Battery Kit ($49.99) contains:
– 1 Ultimate high voltage battery
– 1 pack of 5 cartomizers (your choice of strength and flavors)
– USB charger or Car Charger
Flavors: 10 out of 10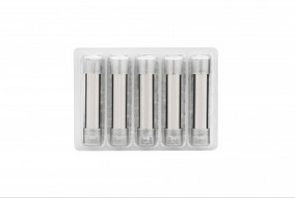 Surprisingly, NuvoCig excels in the flavor department. We say surprisingly because we're not used to cartomizer type ecigs having the greatest tasting flavors. But NuvoCig upended our preconceived notions. Each flavor produced a satisfyingly thick vapor cloud and a perfectly calibrated throat hit. We tried the following flavors for our NuvoCig review:
Cinnamon – Our favorite flavor, it's a thick, smooth, slightly sweet cinnamon with a perfect throat hit. This flavor became our ADV (All Day Vape).
Cappuccino – Another fantastic flavor. This one really does taste like a smooth, slightly bitter (in a good way) cappuccino. Great with breakfast in the morning.
Traditional Tobacco – Just as the name suggests. This flavor tastes like a regular cigarette but with a much smoother throat hit. As former pack-a-day smokers, we really enjoyed it.
Cool Menthol – A great menthol flavor, icy cold with a strong throat hit.
Strawberry – We thought the strawberry could have been more pronounced, but if you're looking for a subtle fruity taste with a light throat hit, this one might be for you.
Warranty + Customer Service: 10 out of 10
NuvoCig offers a comprehensive warranty and money back guarantee. From the NuvoCig site:
Warranty – All batteries and chargers are guaranteed with a full 1-year warranty. This is a one time warranty and the battery can only be replaced once in 12 months. If you have any questions or problems, please email us and we'll do our best to help you resolve it.
30 Day Money Back Guarantee – NuvoCig electronic cigarette kits are backed with a 30 day money back guarantee (US orders only). In the unlikely event that you are not satisfied with the product, simply ensure that the kit is returned to us within 30 days and we will gladly refund your money! You can make a refund request for Premium, Deluxe, and Standard Kits. As they are a consumable product, refund does not apply to cartomizers (either in kits, or ordered individually). All refunds will be made minus the shipping cost of $4.95 or more for expediated shipping.
Their customer service team is fantastic.
NuvoCig Review Final Score: 9.0 out of 10


Make sure to check out all of our e-cig reviews, e-juice reviews, coupons, resources and contests.

NuvoCig Review in 2022 – Deluxe Starter Kit And Ultimate Battery