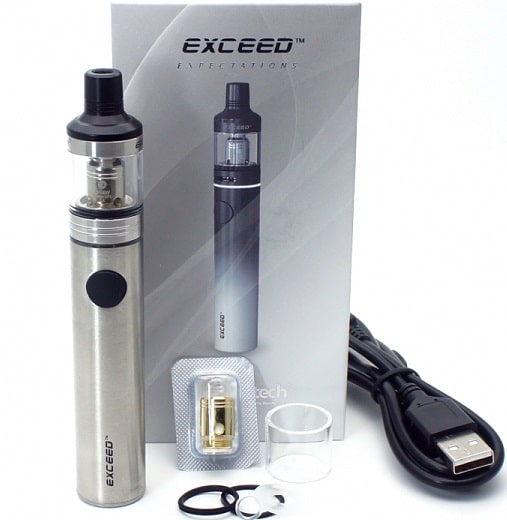 The Joyetech eGo AIO used to be the favorite device of many first-time vapers because of its simplicity and ease of use. It was perfect as a beginner device because there were no parts to remove and cleaning was easy. Joyetech has since improved on this design with the Exceed D19. It is simple and easy to use but can also be used with other tanks for versatility.
Joyetech Exceed D19 Testing and Performance
I was very pleased with the overall performance of this device. Despite it being designed for beginners, it works pretty well for experienced vapers who want something to take on the go or as a secondary device. I spent 5 days using it and charging it and I can say that it is consistently a good vape. Personally, I think it surpasses the AIO in terms of performance and cloud production.
Build quality and design
The Joyetech Exceed D19 measures 118mm tall and 19mm in diameter. It is a sturdy device and feels solid in the hand. The tank section is removable and the kit includes a replacement tank just in case something happens and it breaks. It is also able to be used with other atomizers with a 510 connection.
The design is sleek and smooth, it looks and performs like an advanced tube pen. I just wish that they would eventually add more colors. It currently comes in black/white (which is what I have), black, white, stainless steel, and burnt orange. I would like to see a larger range of colors in the future.
Durability/Reliability
This device is constructed from stainless steel and is very durable. I am somewhat clumsy and have a habit of knocking things over. I have knocked it over twice and so far it has suffered no effects of wear and tear. No dings, no scratches and I'm glad they include the replacement glass. I do like to use vape bands on my tanks for added protection as well.
Ease of Use
This device is very easy to use and has a simple, 1-button functionality. There are no menus, no screens, and no complications. Just on/off and switching between direct output and direct voltage battery modes. I don't know why there are two modes for this. I couldn't really tell the difference between the two modes so I just left it in direct output.
Vaping Experience
I really like the mouth-to-lung style option. It's nice to have the choice of either mode to use. I feel that this setup would work well for new vapers due to the similarities in draw and ease of operation. The .05 ohm coil works well for direct lung hits but advanced vapers may not be satisfied with the wattage output. The coil (.05) is rated for 35W maximum so if you want great big clouds and warm to hot vapor, this will not work for you. When it comes to finding some of the best vape pens, it is all about the overall vaping experience the end user receives from using the product.
Filling
The tank is a top-fill tank with a 2 mil juice capacity. The top cap unscrews revealing the two open juice slots. These are wide enough for most e-liquid bottle tips to fit in. Simply point the bottle tip down inside the fill port and squeeze to fill the tank. Leave a small gap at the top to reduce the possibility of flooding or gurgling. The mouthpiece and top cap are all one piece so you cannot use your own drip tips with it.
One thing I discovered while refilling is that you need to hold onto the top ring with one hand and turn the cap with the other, otherwise the whole cap tends to come off including the top of the chimney. It doesn't have any type of knurling to grip it with and it tends to unscrew the tank at times too.
Leaking
I had no issues with leaking with this tank but I did experience a little gurgling after refills. It is not excessive and goes away after the first one or two hits. It is a minor issue that goes away quickly so I don't see it as a con.
Cloud
This tank has great cloud production for a beginner device. The vapor produced by the mouth-to-lung coil is good with the restricted airflow, and then when you switch it over to the .05 ohm coil and open the airflow the clouds get even bigger. Cloud production on this device is better than the Joyetech AIO and I think it's a better device overall because the AIO didn't have the capability for direct lung hits.
Flavor
The flavor is also very good with this tank. Most likely due to the atomizer coils and the airflow for both MTL and DTL draws. The inner diameter of the 1.2-ohm coil is very small and restricted for more concentrated flavor, and the .05 coil is big for more vapor production due to increased airflow. The increased airflow helps cloud production while the restricted airflow increases the flavor.
What We Liked
+ Affordably priced
+ Well-performing device
+ Designed for both mouth-to-lung and direct-to-lung vaping
+ The battery indicator light tells when the battery is getting low
What We Didn't
– Whole top unscrews sometimes when opening for refilling
– Two modes for battery output (couldn't tell any difference)
– Delrin mouthpiece is not removable (can't use other drip tips)
Value
The price for this in the starter kit is right around $20 at most online retailers. It is a very good price for such a well-performing, compact device.
Final Verdict
I really like the performance of the Joyetech Exceed D19. The mouth-to-lung draw is good and with the 1.2-ohm coil, you can use higher nicotine e-liquid. I used it with 12 mg nicotine in a 50PG/50VG blend and it worked really well. I think it would be a great gift for someone who wants to get off cigarettes and needs something simple and uncomplicated.