Our Halo e cig review puts the G6 starter kit in a solid position among our top 3 ranked e cigarettes. The Halo G6 has a lot qualities that we highly recommend; reliably excellent vapor output, incredibly competitive starter kit price point, and a wide selection of both pre-filled cartomizer flavors and do-it-yourself e-liquid flavors. If you're looking for another top-ranked pre-filled e cig, check out our V2 Cigs review.
Buy the Halo E Cig G6 Starter Kit If You:
1.  Want an e cig that gives you the ability to use pre-filled cartomizers or fill your own blanks with Halo e-liquid. Highly recommend for vapers who are ready to move on to more advanced e-cigs but want to keep the option of using pre-filled cartos.
2.  Like trying different e-liquids but, unlike a lot of advanced e-cig brands, want a battery that's comparable in size to a real cigarette.
3.  Want an intermediate level e-cig that gives you thick vapor clouds and extensive e-liquid choices that rival advanced e-cigs, without draining your bank account.

Halo Cigs Coupon:
Our exclusive Halo Cigs Coupon codes give License To Vape readers huge discounts on Halo Cigs product!
Click the Halo Cigs coupon below to reveal the code. The Halo Cigs site will open up in a new window. Simply paste the coupon code into the box at checkout for great discounts on Halo Cigs products – including their top 3 ranked G6 starter kit.
Halo Cigs 5% Off
Vapor + Throat Hit:  10 out of 10
Halo E Cig G6 is a reliable workhorse when it comes to vapor production and satisfying throat hits. The vapor cloud is thick and, once you understand the best method of puffing on the e-cig, it's very easy to get huge clouds on every drag.
The first time I tried the Halo G6 I puffed on the automatic battery like I would a regular cigarette – one long, sustained drag – big mistake. A minimal amount of vapor came out. Then I tried again, this time doing three short puffs, followed by one long drag – perfect! Big vapor cloud, smooth draw, perfect throat hit.
With the manual battery you don't have to worry about that process. Simply depress the button for a couple seconds and you're rewarded with a massive vapor cloud. Overall, I preferred the ease of the manual battery over the technique of the automatic.
If you're using the pre-filled cartomizers, you're going to get uniformly great vapor on every puff. I prefer to use the Halo e juice to fill the blank cartos. The amount of vapor you're getting on each puff, the taste of the e-liquid, and the throat hit are all affected by the amount of e-liquid you drop in the cartomizer. Using between 5-7 drops of e-liquid per cartomizer fill gave me the best vapor, flavor and throat hit.
 Battery + Hardware:  9 out of 10
Our Halo E Cig review covers the Halo G6 starter kit, which comes with two 78mm batteries; one automatic and one manual. The G6 is a two-piece design (battery + cartomizer). We loved the size and the design of the battery.
You can choose from 9 different battery colors, but, is there really a choice? The Jet Black color scheme is ridiculously good looking. The matte finish with the hard rubber feel is fantastic. Add that to the real cigarette size and you've got my favorite all-around e-cig design.
The Halo G6 battery isn't perfect. It's not nearly as long lasting as the top-ranked Vapor Zeus. In fact, it doesn't even come close. On average, a fully charged G6 battery lasted about 3/4 of my day.
Granted, with the Halo G6, you're sacrificing a long lasting charge for a much smaller size which makes easily portable. Luckily, Halo Cigs had the foresight to include two batteries with the G6 starter kit. So, make sure to always have your backup charging while you're vaping the other one.
If you're only using the pre-filled cartomizers, you can skip this paragraph. If you're going to buy the Halo G6 starter kit with blank cartomizers and sample their huge selection of e-liquids (which you really should do)…READ THIS FIRST:

The Halo G6 loses a point here because the blank cartos are a pain in the ass to fill. The blanks come with a plastic donut-shaped piece that you have to pry out of the carto with tweezers (or a vape pen). Then, the carto is pretty damn small so you have to be very careful when dropping the e-liquid in. It's very, very easy to overfill and ruin the carto, so I highly suggest you only use 5-7 drops max, per fill. Then, you have to put the plastic donut back in the carto. The Vapor Zeus cartomizers are so, so, so much easier to fill.
That being said, it is really worth it to use e-liquid instead of the pre-filled cartos. Better flavor, better vapor, better throat hit, mix and match flavors, refill cartos…the benefits go on and on.
A final hardware note:  the black carrying case looks really sleek and is very useful for keeping everything in its proper place.
Price ($44.99):  10 out of 10
At a super competitive price of $44.99, the Halo G6 starter kit is truly one hell of a deal. The batteries, cartomizers and flavors are all of a higher quality than what you'll find in many of the bigger, more popular brands starter kits. And the Halo G6 starter kit is cheaper than virtually all of the other big brand starter kits.
In the Halo G6 starter kit, you'll get:
– 2 batteries (manual and/or automatic)
– 5 pack of cartomizers (pre-filled or blank)
– USB charger
– Wall charger
– Carrying case
Important to note that if you opt to go with blank cartomizers in your starter kit, you'll have to buy e-liquid separately.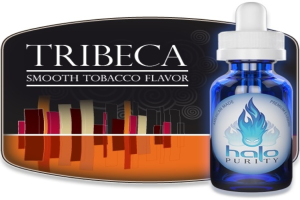 Flavors:  10 out of 10
Our Halo E Cig review covers six Halo e juice flavors. Overall, the flavors are obviously crafted with care and expert skill. We tried the following flavors:
– Kringle's Curse (18mg nicotine) – This was our favorite out of the six flavors. Halo nailed it with Kringle. It's an interesting mixture of flavors – strength and warmth of classic tobacco, hint of menthol-like iciness, twist of something sweet. Please note:  I could be completely wrong about the exact mix of flavors that go into Kringle's Curse, but that's the closest I can get to describing it. Fantastic throat hit, fantastic vapor production.
– Turkish Tobacco (18mg nicotine) – Our second favorite flavor. Another excellent throat hit with Turkish Tobacco. Not a lot of explanation needed for this flavor – if you like tobacco (and I'm assuming you do), you'll dig the Turkish. Hint of sweetness in this flavor as well.
– Tribeca (18mg nicotine) – Tied for second favorite with Turkish Tobacco. I think Tribeca is a blend of different tobacco flavors with sweet hints of vanilla and caramel. Highly recommend this flavor.
– Malibu (18mg nicotine) – Malibu tasted like a fruity, beachy cocktail made with Malibu rum. It was a touch too saccharine for me, but others with more of a penchant with sweet flavors will probably love this one.
– Sub Zero (18mg nicotine) – This is Halo's super strength menthol flavor. If you like menthol, this is the flavor for you. It packs an insanely icy punch.
– Belgian Cocoa (18mg nicotine) – Another flavor that I don't need to describe in detail – it tastes exactly as the name suggests. Quite sweet, but not overly so.
Warranty + Customer Service:  9 out of 10
The Halo E Cig warranty on the G6 starter kit is a little bit lacking. Read our V2 Cigs review to see the right way to do a warranty. Halo breaks it down by component. Here are the details:
Battery Warranty – 60 Days from Date of Purchase
Cartomizer Warranty – N/A
Wall Charger Warranty – 90 Days from Date of Purchase
USB Adapter Warranty – 90 Days from Date of Purchase
Their customer service team is top notch. All of my questions were answered very quickly.
Halo E Cig G6 Starter Kit Final Score:  9.4

Check out the rest of our e cig reviews! Including our Vapor Couture review – specifically for women vapers.
Halo E Cig Review for 2022 – G6 Starter Kit