In our Expert Interview series, we ask 6 questions to an e-cig expert about the future of e-cigs. We have some great ones lined up for you and we hope the series will be informative, entertaining and thought-provoking.
This week, Devin Gusich, Director of Sales at Smoking Vapor.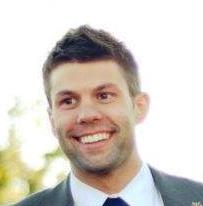 1. Why Did You Start Vaping?
I smoked in college and then afterwards was a social smoker & stress smoker for years.  There was always a pack in my desk that I took to after-work dinner outings or grabbed after a stressful workday.  I was never a regular, heavy smoker like my business partner Amir (who smoked a pack a day for 16 years.)
Before coming onto the board and investing in Smoking Vapor (SV), I was a customer.  A friend (another closet smoker) introduced me to one of the SV disposables.  It was perfect for me.  The nicotine rush is great, but for me it was more the meditative habit of smoking and the social atmosphere it created – it was almost tribal, communal and relaxing; which was exactly what I craved.
After trying SV, I purchased a few and put them in my desk drawer for those cravings.  After a week of going back and forth between SV products and real cigarettes, I started using only the Smoking Vapor eCigs. I realized I didn't smell like an ashtray and didn't get the stink-eye from my wife when I walked in the door.  Plus, I actually enjoyed the flavor of the SV products.  I don't know that I ever enjoyed the flavor of traditional cigarettes.
I have tried other products, but for me personally, I like the simplicity of an automatic eCig versus a tank/button system.  Simple.  Calming.  Communal.  Delicious.
2. What Is Your "Go To" E-Cig and E-Juice Combination?
In the morning I am dedicated to my SV Coffee (2.4% nicotine). To me, it is better than Starbucks. I then use SV Green Apple (1.6% nicotine) throughout the day just to keep it interesting.  And then I have a special "custom-batch" of chocolate & strawberry (0% nicotine) mix that is amazing with a glass of Cabernet or Shiraz at home in the evenings.  It is really that good – it just may be the next flavor we launch.
3. What Are The Biggest Misconceptions About E-Cigarettes?
There are 50,000,000 Americans that smoke, which is more than 20% of the country. That number has remained stable for the past several years.  Of these people, 50% will die from a smoking-related illness if they don't quit or switch.
Anyone who has tried quitting knows that it isn't easy. In my opinion, nicotine isn't the issue. It is the habit – the social aspect of smoking, the feel of it in your hand, the oral fixation, relaxation and breathing that create a meditative effect that people enjoy.  So many people try to quit for health or family, but in reality, many would rather switch to something safer, healthier, less offensive and more pleasant. The truth is they still enjoy the habit– which is where vaping comes in.
I think non-smokers are concerned with vaping creeping back into restaurants, movie theaters or places where they feel it will be offensive and obtrusive.  The truth is vaping occurs more in a person's home, car and around their family – the places where they are the most.  All vapers need to use some common courtesy and respect people around them just as they would in any situation that requires couth.  But regardless, any restrictions and bans should be done by the owners of the establishments, not by the government.
I also think people fear what they don't know. We are talking with customers who had COPD, heart problems, many kinds of issues and that have made the switch and have seen benefits to their overall health by removing the traditional smoking from their lifestyle.  We are talking with doctors who see amazing results with their patients who have switched.  As more positive evidence comes out, and people recognize the opportunity that we have to make a positive impact on people's lives, the rhetoric will subside and this amazing life–altering innovation will prevail.
4. How Do You Think The New FDA Regulations Will Affect The Vaping Industry?
Honestly, I think there is more smoke than fire. (Pun intended.) Firstly, I believe that all the industry leaders, including myself, want to see a federal age restriction of over 18.  Our customers are adults who enjoy the habit, but want something better. Second, we do need labeling standards for the contents so that people know what they are buying and using.  I have been to many liquid factories and there are good ones and bad ones in terms of quality control.  It is important that some industry standards are created for safety.  And third, I think that the bottled eLiquids need to have child-proof caps.  While it is certainly a parent's responsibility to keep adult products out of a child's reach, as manufacturers, we need to be cognizant of the reality that people make mistakes.  Something as simple as a child-proof cap can go a long way toward preventing any accidents.
One thing that we do not expect from FDA or legislators is any flavor restrictions or internet restrictions. Adults crave variety, excitement and flavors. If they try and ban flavors for eCigs, then they need to ban alcohol companies from making flavored vodka. We know for a fact what the harmful affects of alcohol are and yet no one seems to be making this flavor comparison with insidious marketing practices. Maybe because it's a false argument or maybe the alcohol industry is just an established and well-known industry.
Regulation of any kind will have to go through the FDA process which will take about 2 years to enact, so we will have to wait and see. I think that the FDA will opt for intelligence gathering and will look to get more hard data from university studies on the benefits and detriments of vaping.  The facts we do know are promising.
There are thousands of carcinogens in combustible cigarettes and none of them have been shown to be in eCigarettes (that are manufactured by companies with QC standards.)  Most importantly, in terms of public health, they need to keep all comparisons in context of vaping versus burning.  That is what is important.  This industry (which is creating jobs and driving economic growth) is an industry that has the opportunity to use innovation and new options, which may lead to the greatest improvement in public health in decades, maybe our lifetime – the extinction of the combustible cigarette.
5. What Are Your Favorite E-cigarette Blogs, Forums And/Or Reviewers You Trust The Most?
With so much information out there, I like to stick to sites that are known to have facts, including SFATA.org, CASAA.org and AEMSA.org. Additionally, I have a daily Google Alert that emails me a list of all the news articles pertaining to eCigarettes or vaping.
6. Where Can We Find You On The Web/On Twitter/Facebook/etc.?
Twitter- @smokingvapor
Facebook – www.facebook.com/smokingvapor
Web – www.smokingvapor.com