Our Eversmoke review shows the Eversmoke electronic cigarette might be the strongest on the market with a massive vapor cloud and very pleasing throat hit, but it's probably too strong for light smokers looking for a comparable experience.

Eversmoke Coupon Code:
Our exclusive Eversmoke coupon code link knocks an additional 10% off any starter kit on their site. Click the link and your additional 10% discount will automatically be applied at checkout.
Make sure to navigate on over to our coupon page for all our premium electronic cigarette coupon codes you can't get anywhere else! Including the Vapor4Life coupon (our favorite refillable e-cig).
Vaping Experience:  9 out of 10

Thankfully, being a Marlboro Red smoker for the last ten years was enough to prepare me for the extremely high nicotine content and huge vapor output of the Eversmoke. The throat hit might be the best in the business.
The 24mg of nicotine are enough to give anyone a good buzz, and surprisingly, the Classic Tobacco flavor was good enough to keep me vaping all day. If you're looking for a more mellow vape with a wider range of flavors, look at other e cig brands before you go with the Eversmoke e cigarette.
Price: 10 out of 10
For our Eversmoke review, I purchased the Eversmoke Basic Starter kit for $49.99. Eversmoke has stepped up their starter kit game, offering more product in their Basic Kit for a lower price than most other brands.
The Eversmoke Basic Kit (which isn't basic at all) includes two batteries (one high capacity, one standard), 10 nicotine cartridges, a wall charger, and a USB charger. Considering most other brand's basic starter kits usually only come with one battery and five cartridges, you're getting a hell of a deal with Eversmoke.
If you're looking for comprehensive, premium starter kits, Eversmoke has you covered there, too. Their Pro Kit runs $79.99, but with everything included in the Basic Kit, I'd probably stick with that for the value. If you really want to go for the top-of-the-line kit, go for the Ultimate Kit. At $149.99, it includes 3 batteries, a power cig, 15 nicotine cartridges and a whole host of other accessories. Comparable in price, Krave electronic cigarette also offers very economical e-cigs.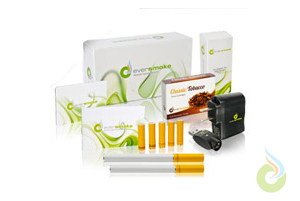 Hardware: 8 out of 10
The Eversmoke standard battery is comparable in length to other batteries on the market, but seems to have a bit larger circumference than the others.
This is not a positive attribute. The increased circumference makes it more difficult to smoke like a standard cigarette.
The white with gold stripe color scheme is supposed to resemble a real cigarette but it could be more attractive. It takes a fair amount of lung action to get a healthy dose of vapor. Put in the effort though, and you'll get a nice big vapor cloud.
My standard starter kit came with a wall charger and USB charger. Both do their job.
Flavors: 9 out of 10
For our Eversmoke review, I chose the Classic Tobacco (bold 24mg) flavor cartridges for my starter kit. The nicotine content is extremely high compared to the other electronic cigs on the market and they will give you a solid buzz. I was thoroughly impressed with the throat hit I got when vaping this flavor.
Be warned – it's stronger than a lot of the other e cig brands I tried. It might not be right for those looking for a mellower vape. When I try a wider variety of Eversmoke flavor cartridges, I will update this review.
Eversmoke Review Final Score: 9 out of 10

Check out all of our unbiased, unfiltered, expert reviews.
Eversmoke Electronic Cig Review