We finally got around to trying the new ePuffer Snaps e-cig and realized it's so good, we should have been vaping this e-cig since it was released in January.
What makes the ePuffer Snaps such a great vaping starter kit? Simply put, you get superior vapor production, ease of use and better flavors than all other pre-filled e-cigs. Putting all hyperbole aside, this is hands down the best pre-filled rechargeable e-cig available.
Buy An ePuffer Snaps Starter Kit If You:
– Want absolutely incredible vapor production from a rechargeable, pre-filled e-cig that rivals more advanced refillables.
– Want the best performance AND the sexiest, sleekest looking e-cig.
– Love the ease of pre-filled cartomizers but have been disappointed by lackluster flavors. ePuffer finally solved the problem. Their flavors are downright delicious.

ePuffer Coupon Code
Click the coupon below to reveal the code. The ePuffer site will open up in a new window. Simply paste the coupon code into the box at checkout to apply your discount. Please note that Epuffer coupon codes are not valid with already discounted items.
Our exclusive Epuffer coupon code gives License To Vape readers 10% off every product in the Epuffer store!
[coupon name="new epuffer sitewide" id="25″]
Vapor + Throat Hit: 10 out of 10
The ePuffer Snaps blows every other pre-filled, rechargeable e-cig out of the water when it comes to vapor production. And it's so much more impressive because of the small battery size. We got huge clouds of vapor on every puff and the throat hits were uniformly perfect. Getting a good puff is effortless with the ePuffer Snaps. No need to draw on the e-cig like a maniac. It's a smooth process all the way.
Battery + Hardware: 10 out of 10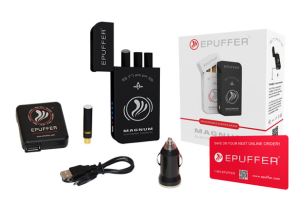 The ePuffer Snaps made one seemingly minor change in their e-cig design and it resulted in huge improvements. That design change? Snapping the nicotine flavor cartomizers into place instead of screwing them. The ePuffer Snaps battery is magnetized along with each Snaps cartomizer. Want a new flavor? Just pull out the cartomizer, and pop in a new one – no screwing necessary. The process of switching out cartomizers is much simpler. You can do it with one hand. And it's quite fun!
That's not the only improvement we see with the ePuffer Snaps. The battery is revamped with an even sleeker look and it feels like it's made from even higher quality material. There's a nice heft to it despite the small size. More importantly, the battery lifespan has increased to 400 charge cycles and the cartomizer capacity has increased by 20%.
To top it all off the Personal Charging Case E-Pack is absolutely brilliant. It's a multi-purpose portable case, about the size of a pack of regular cigarettes, with the following features:
Charges the ePuffer Snaps battery
Holds another fully assembled ePuffer Snaps e-cig
Holds an additional cartomizer
USB charging socket
E-Pack battery level indicators
Flashlight
Price ($59.95-$79.00): 9 out of 10
You can get two different ePuffer Snaps kits, one for $59.95 and the other for $79.00. To be completely clear, for the superior quality of the product, both prices are completely fair. However, we do think the prices could perhaps be just a tad lower. That's the only reason for the loss of one point in this category. Let's break down the contents of each kit.
1. ePuffer Snaps Magnum Rev-3 Starter Kit – $59.95
 2 High Capacity lithium rechargeable batteries
5 Premium Tobacco flavored cartomizers (each cartomizer equals about 30 regular cigarettes)
Wall charger
USB charger
2. ePuffer Snaps Magnum E-Pack Starter Kit – $79.00
1 Rechargeable Personal Charging Case E-Pack
2 Rechargeable Batteries
3 Premium Tobacco flavor cartomizers
Wall Charger
USB Charger
Car Charger
$5.00 Off Discount Card
Flavors: 10 out of 10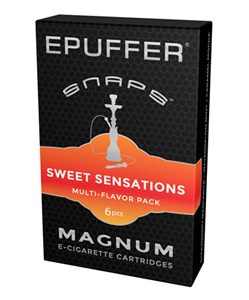 ePuffer has definitely stepped up their flavor game since the last time we vaped one of their products (the excellent ePuffer Nano). They now offer a wider variety of flavors. And not only are they better than most other pre-filled cartomizer flavors, the ePuffer Snaps flavors rank up there with premium e-juices.
Their cartomizers are available in 1.2mg, 0.6mg and 0mg nicotine content. The throat hits for each flavor were perfectly calibrated (smooth when it should be smooth, a little bite when necessary, etc.). We tried the following ePuffer Snaps cartomizer flavors:
Premium Tobacco – Strong, smooth, classic tobacco flavor. Best for those vapers who still love the taste of regular cigarettes.
Strawberry Margarita – Cool, fruity refreshing vape. It's light and airy but not too sweet.
Caramel Mocha – Perfect vape to compliment your morning coffee. This flavor is on the stronger side but very smooth. The caramel and mocha blend together very nicely. This became our All Day Vape for a while.
Watermelon Mint – A surprisingly effective new twist on the menthol flavor. This is icy cool with a strong burst of watermelon flavor. The throat hit is strong and smooth.
Warranty + Customer Service: 10 out of 10
ePuffer Snaps comes with a 30 Day Money Back Guarantee and a 1 Year Warranty. The customer service team is excellent.
ePuffer Snaps Review Final Score: 9.8 out of 10

Make sure to check out all of our e-cig reviews, e-juice reviews, coupons, resources and contests.

ePuffer Snaps Review in 2022