The Epuffer Nano is the best looking e-cig starter kit on the market, the taste is superb, and the vapor volume is very good for the small battery size.

Epuffer Coupon Code
Our exclusive Epuffer coupon code gives License To Vape readers 10% off every product in the Epuffer store!
Click the coupon below to reveal the code. The Epuffer site will open up in a new window. Simply paste the coupon code into the box at checkout for 10% off every Epuffer product – including their top-ranked Colibri Nano starter kits. Please note that Epuffer coupon codes are not valid during Epuffer "Big Sale" promotional events.
Epuffer – 10% Off Entire Site!
Vaping Experience:  9 out of 10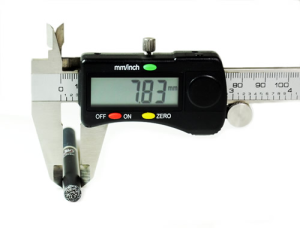 The Epuffer Nano falls just short of the pre-filled ecigs gold standard set by our South Beach Smoke review. The Epuffer Nano has to be the smallest e-cig available, which makes it extraordinarily easy to enjoy in any situation.
The design is elegantly sleek. The standard tobacco flavor is very pleasing but is sweeter than a standard Camel or Marlboro cigarette. It takes a bit more effort than most other e-cigs to produce a healthy amount of vapor.
Price:  9 out of 10 
I purchased the Epuffer Nano starter kit for $59.00. Upon first glance, this seems like an insanely good deal as compared to other starter kits by competing brands. Upon closer examination, it's a just-above-standard package as it contains two batteries, five cartomizers (all the same standard tobacco flavor), charger pack and a wall charger with USB adapter.
Compare that with some of the other brands that include more cartomizers (like South Beach Smoke), different cartomizer flavors, a variety of battery choices, and a number of different charging options and it starts to look like a standard offering for the price. This doesn't change our opinion of the quality of the product, though, so keep that in mind.
Hardware:  10 out of 10
The Epuffer Nano is the only e-cigarette to elicit a favorable comment on its appearance from my girlfriend. By the way, if you're looking for an e-cig for your girlfriend, check out Vapor Couture. For more info read our Vapor Couture review.
The battery is extremely small, sleek and stylish and looks better than every other unwieldy battery on the market. If you want to simultaneously impress other vape enthusiasts while keeping non-smokers in the dark, this is the choice for you.
The charging case doubles as an effective carrying case and is comparable in size to a pack of real cigarettes. The charger is basic and the use is straightforward. I tried both batteries included in the starter pack and both were lacking in the volume of vapor produced.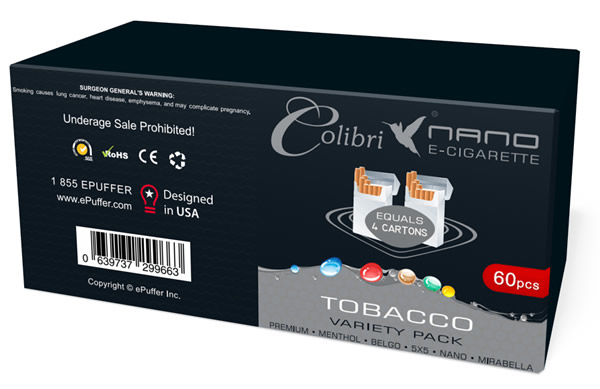 Flavors:  9 out of 10
The starter kit only came with one flavor – standard tobacco. Epuffer has done a great job with this flavor as it tastes like a standard cigarette tinged with just the right amount of sweetness.
If you're looking to get as close as possible to a regular Marlboro or Camel cigarette, look somewhere else. But if you want a fresh take on the classic cigarette, I would highly recommend the Colibri Nano.
The flavor rating only suffers because of the low amount of nicotine offered for this product.
Where other brands usually offer 1.6mg of nicotine, the highest you'll get for the Colibri is 1.2mg.
This review will be updated as I try other flavors offered for the Epuffer Nano.
Epuffer Nano Final Score:  9.3 out of 10

Epuffer Nano Review – Better Than Ever in 2022
Check out all of our unbiased, unfiltered, expert reviews and exclusive electronic cigarette coupon codes.