Best Vape Batteries and Reviews of 2022
Which Vape Battery Should You Buy?
Features
Expert Rating

LG HG2

Rated Voltage: 3.7 volts
Battery Capacity: 3000mah
Max Discharging Current 20A

(97%)

Sony VCT5

Battery Capacity: 2600mAh
Discharge Current: 20A Maximum Continuous
Approximate Dimensions: 18.2mm x 65mm

(94%)

LG HB6

Battery Capacity: 1500 mAh
Rechargeable
30A maximum continuous discharging current

(89%)
Our Favorite Vape Batteries for 2023
When it comes to vaping batteries, safety is always the first and most important consideration. There are tons of batteries being sold online and in vape shops and it is important to know what kind of battery your mod uses and what is best for it at the recommended wattages. Since battery safety is so important we have devoted this review to the "Best Vape Batteries" of 2023 and the best 18650 battery for vaping. These batteries were chosen based on performance, safety and reliability for all types of mods. Check out our list of the top 5 vaping batteries for 2023.
Battery Buying Guide
Here are a few key points when it comes to buying the best vape batteries for your device. These things are what to look for to help you in choosing the right one. The information listed on a battery can tell you a lot about how it performs and about how long it will last between charges.The top of the line batteries such as LG, Samsung, Sony and Panasonic make the best 18650 batteries suitable for all vaping wattages from low to high. Here are a few terms and what they mean:
High Capacity – means they have a higher mah rating (2000 to 3000) and you can vape longer between charges. This type of battery is good for those who like to vape at lower wattages because they can charge it up and vape for days. Here is a sample of suggested wattage level and coil pairing for best results.
Capacity ratings:
3500mah – 30 watts or lower/0.4 ohms
3000mah – 30-40 watts/0.4-0.26 ohms
2500 – 2900mah – 40-60 watts/0.27-0.19 ohms
2000 – 2400mah – 60-120 watts/0.18-0.15 ohms
High Current – You usually don't find a battery with high capacity and high current, you have to choose between the two. Higher current rating is 30A (continuous current) and means that it will hit harder and produce more vapor, but will need to be charged more often. This type is good for those who vape at medium wattages of 50+
High Voltage – these are usually used in mechanical mods because they hit harder and can be used at higher wattages. The downside is that they run fast and therefore need to be charged more often.
When it comes to batteries there are several good brands on the market for vape mods. The important thing is to buy batteries from a reputable vendor or directly from a vape shop so you know you're buying authentic, high-quality batteries made for vape devices. Some resellers will rewrap lower quality batteries and sell them at a higher price, it is good for them but not good for the vape mods or your safety.  And safety is the number one concern.
LG HG2
The LG HG2  18650 is one of the best vape batteries on the market. It is a high-drain, high-capacity 3000 mah battery.  A high capacity means that the battery life is very good and should last the average vaper a couple of days before needing a charge. It has a continuous discharge current of 20A and a maximum discharging current of 35A. The chemical component of this battery is INR meaning it is made from Litium Ion and Nickel. High capacity batteries are good for wattages in the 30 to 50W range because it extends battery life and keeps the temperature of the battery cooler. Preferable Use: 30-40 watts/0.4-0.26 ohms
Battery Capacity: 3000 mAh
Rechargeable
20A maximum continuous discharging current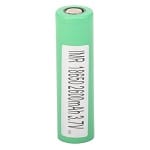 Sony VCT5
The Sony VTC5 is another high capacity battery good  for sub ohm vaping. An upgrade from the VTC4, the VTC5 offers an additional 500mAh capacity making it an excellent battery for long vaping. The downside of this is because it is so popular it is also counterfeited frequently so make sure you buy from a vape shop or vendor to make sure it is authentic.It has a whopping 2600mah and a continuous current of 20A. Preferable Use: 40-60 watts/0.27-0.19 ohms.
Battery Capacity: 2600mAh
Discharge Current: 20A Maximum Continuous
Approximate Dimensions: 18.2mm x 65mm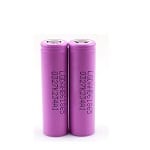 LG HB6
The HB6 is  LG's highest rated batter due to its 30A maximum continuous discharge, making it one of the best 18650 batteries for cloud chasing. HB6 has the coolest operating temperature of some of the other LG batteries and is ideal for high-powered vape mods. Because of its ability to stay cool while producing high wattages, it is good for regulated mods and mech mods as well. Preferable Use: 120 watts or higher/0.14-0.12 ohms
Battery Capacity: 1500 mAh
Rechargeable
30A maximum continuous discharging current
LG HD2
Another great performing vape battery is the LG HD2. Like the other battery in this line, it is a high quality, battery that is very popular among vapors of higher wattage mods due to the fact that it can run at higher temperatures providing more vapor and harder hits. It can handle a discharge rate of 30A and stay cool while doing it making this a great battery for box mods in the 50 – 100W range. Preferable Use: 60-120 watts/0.18-0.15 ohms.

Rechargeable
Battery Capacity: 2000mAh
Discharge Current: 25A
MXJO 26650 Battery
The MXJO 26650 batteries are high amperage, high quality and durable batteries. Lithium ion is a choice composition for mod batteries as the rate of discharge is relatively level when compared to other batteries. MXJO is one of the most trusted and sought after battery manufacturer on the market. They use their technology to create safe, high performance batteries for vapers. Do to their inherent safety, IMR cells don't have a protection circuit built in. They should never be discharged below 2.5 volts or cycle life/performance will be
4200mAh Capacity
1.25A Standard charging current
2.5V Discharge end voltage
22A Max continuous discharging current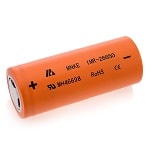 MNKE Orange 26650
The MNKE 26650 lithium-ion battery is 3,500 mAh, making it one of the longest lasting batteries on the market. And with MNKE battery's high amp limit , there's no fear of the batteries venting. Bring on those low-ohm, cloud chasing builds with confidence. While this type of battery would essentially work well in mech mods and APVs, most regulated mods can only house 18650 batteries. If you are looking for a high-quality, long-lasting battery, the MNKE 26650 lithium-ion batteries fit the bill!
Battery Capacity: 3500mAh
BatteryType: Lithium Manganese Oxide
Continuous Discharging Current: 20 A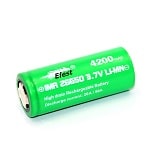 Efest Green 26650
The Efest 26650 has a 4200mAh capacity and is very popular for use in mechanical mods. It has a max continuous current of 20AMPS and a max pulse current of 50AMPS. A great choice for sub-ohm vaping. Now that sub-ohm vaping has become the norm, more and more products are being specifically designed for cloud chasers. Many mech mods take 26650 batteries and these are the best ones in this category.
Li-Mn (high-drain)
Battery capacity: 4200mAh
Bottom: non-protected
Max discharge current (continuous): 20A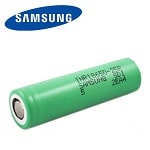 Samsung 25R
Samsung is another reputable manufacturer of high-quality products. The 25R is known for its longevity and reliability. It is another high-capacity battery at 2600mah. It will easily last an average vaper 2 days between charges and, according to the manufacturer, it has 250 charging cycles before it needs to be replaced. This battery works well in the medium wattage range between 50-75W. Because of its discharge rate it can also be used at a higher wattage but you may not get as much vapor. Preferable Use: 40-60 watts/0.27-0.19 ohms

Rechargeable
Battery Capacity: 2500 mah
20A maximum continuous discharging current
High Capacity
High-capacity batteries last a good while before needing a charge. The capacity of a battery is determined by the number of "mah"  or milli-ampere hours it has. Meaning that one with 3000 mah will last longer than a battery of the same size at 2500mah or 1500mah. Mods that use 2 batteries divide the load between them.
High Voltage
The stated voltage on the battery is between 3.7 and 4.2 maximum volts. This means the maximum charge the battery holds. When choosing a battery, look for batteries that have good capacity (mah), a high current rating (20A – 25A), these are generally higher voltage batteries. Meaning that they can handle a higher power load.
Stays Cool or Has Low Operating Temperature
Batteries with a low temperature tend to draw less power from the device and do not heat up as fast as some others. You don't want your batteries to become too hot while vaping, it's not a good sign. Batteries that get too hot can vent or explode. If you notice the body of the mod gets hot between draws you may want to change to another battery with a higher amp rating.
Rewrapped Batteries
Rewrapped batteries are batteries that have been covered in a battery wrap to look like high-quality, more expensive batteries like the Sony VTC5. You may not know if you're buying a rewrapped battery unless you only buy your batteries and accessories from a vape shop. These usually come from lots or bundles bought from outsourced vendors and resold.
Batteries with Torn Covers
Never buy a battery that has a ripped or torn cover. If your battery arrives that way from mail order throw it away. Don't use it. Battery covers are meant to protect you from metal touching exposed components on the battery and causing it to vent. This is true for any rechargeable battery whether it is an 18650 or a AA.
Unknown Battery Brands
Vaping batteries are known to be more expensive than other types of batteries. It is not unusual for a battery to cost $9 – $10 each. Because they are more costly people try to cut corners to save money & buy batteries with weird brand names or ones nobody has ever heard of. Always buy your vape batteries from a vape shop (online or in-person). Never buy from discount stores or eBay.
Specialized Reviews Ranking System
At License to Vape, we employ a comprehensive evaluation system to analyze and measure the full value of products, by looking at the ingredients, clinical studies, safety, projected effectiveness, return policies, and overall customer satisfaction. This method is known as the License to Vape Ranking System.
Are AA batteries the same as 18650?
What is the Difference Between Protected and Unprotected Batteries?
What Does INR or IMR Stand for?