What Is The Best Ego Starter Kit?
First, what is an Ego? An Ego style e-cig (aka eGo or E-Go), is the class of electronic cigarette that is a bit more advanced than standard rechargeable e-cigs. The eGo style e-cig is the electronic cigarette of choice for many intermediate to advanced vapers who want thicker vapor, more control over every aspect of their e-cig and more flavor options. On top of that, there are many more different size, style and color options when it comes to Ego e-cigs.
Even though the Ego is more advanced, they are still extremely easy to use, charge and refill with e-liquid. The Ego style consistently produces better, thicker vapor and stronger throat hits than all disposable ecigs and most rechargeable e-cigs. eGo style e-cigs are really hard to beat. The eGo batteries are big enough and strong enough to last all day on a single charge. And the refillable tank holds enough e-liquid to last most vapers all day as well. You can go to work and not have to worry about recharging or refilling.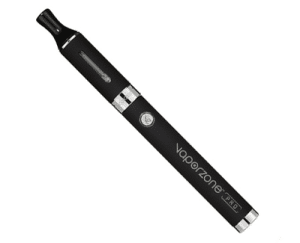 The eGo is a "no-brainer" e-cig choice for medium to heavy smokers, but choosing the right eGo is a different matter. There are so many different features, sizes and color options it can be frustrating and confusing.
To clear up some confusion, the term "eGo" technically refers to the battery only. In order to vape with an eGo style battery, you need to purchase one of the different types of tanks that will hold your eliquid. However, the term "eGo" is so widespread now, that when most people use it, they mean the entire e-cigarette and not just the battery. Also, all eGo style e-cig starter kits will come with both the battery and the tank – everything you need to start vaping. In our opinion, buying an eGo e-cig starter kit is the best way to find the perfect e-cigarette for you.
One of the biggest factors in the eGo's popularity is the standardized 510 threading. This is the type of threading used to screw the tank on to the eGo battery. The vast majority of electronic cigarette tank manufacturers use 510 threading, so this enables you to use almost any type of cartormizer, clearomizer or tankomizers you want with the eGo battery. What are cartomizers, clearomizers and tankomizers? Those terms refer to the most common tanks for the eGo style battery.
You can use the following tanks with eGo e-cig batteries;
Atomizers – Only the heating element. Drop 2-5 drops of e-liquid directly onto the heating element to vape.
Clearomizers – The heating element is enclosed in the tank. E-liquid is fed to the heating element using wicks.
Cartomizers – The heating element is enclosed in polyfill material. You drip the e-liquid into the polyfill.
Tankomizers – A cartomizer sits inside a bigger tank which is filled with e-liquid. A hole in the cartomizer lets the e-liquid keep the heating element soaked.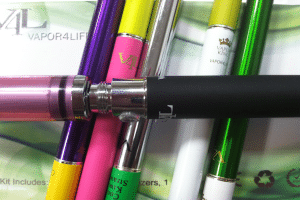 eGo style batteries are manual, meaning you press a button to heat the eliquid, allowing you to vape. Most eGo style batteries have a safety feature that allows you to turn the device on/off by pressing the button rapidly 5 or more times. This prevents the battery from accidentally heating up.
Many medium to heavy smokers have found eGo style electronic cigarettes to be the ideal option for vaping. Or if you are new to vaping and have tried disposable e-cigs and rechargeable e-cigs, but have been disappointed, give eGo a shot. If you get a high quality eGo starter kit, you'll get luscious, thick vapor clouds, fantastic throat hits, great hardware quality and options…all for an excellent value. Don't forget to stock up on awesome e-liquid as well. You'll need it to keep your eGo e-cig tank full. Check out our Best E-Liquid page for all the best e-liquid on the market.
If you're looking for the best electronic cigarette, eGo style e-cigs are a great place to start. And you probably won't need to go anywhere else.