Our Bedford Slims review shows these Brooklyn made ecigs are a low cost, high-performance option for vapers looking for easy, pre-filled, ready-to-vape kits.
We got the Vapourette Starter System for our Bedford Slims review. We were very impressed overall with the performance of the ecig, the cartridge flavors and the low cost. We highly recommend Bedford Slims for beginning to intermediate vapers.
Buy The Bedford Slims Vapourette Starter System If You:
– Are just beginning to explore the vaping world and want a high quality, low cost starter kit.
– Want to open your starter kit and start vaping immediately without any complicated instructions.
– Would rather have fewer, more delicious hand-crafted flavor options than an endless array of mass-produced flavors from some of the larger e-cig companies.


Vapor + Throat Hit: 8 out of 10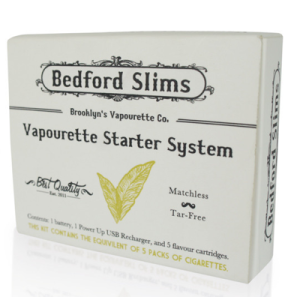 Bedford Slims really nails the throat hits with all of their different flavor cartridges. Each throat hit is perfectly calibrated to give you the best possible vaping experience.
The Bedford Slims review loses a couple points in this category due to the sometimes uneven vapor production. 9 times out of 10, you're going to get a great vapor cloud. But once in a while, you'll get a few vapor clouds in a row that aren't up to snuff.
(For excellent vapor production from pre-filled e-cigs, check out our V2 Cigs review and South Beach Smoke review. Both are much more expensive, but also more reliable.)
Additionally, it sometimes takes a little more effort to work up a good vapor cloud with Bedford Slims.
Battery + Hardware: 8 out of 10
Bedford Slims starter kits are what we call "pre-filled" kits or "ready-to-vape" kits. This means that all you need to do is screw your choice of flavor cartridge onto the battery and you're good to go.
We got the Vapourette Starter System for our Bedford Slims review. This starter kit comes with one battery, or as the Bedford guys call it, a vapourette. The battery is definitely high quality and we've been very happy with the performance.
The battery comes in three different color options; stainless steel, black plaid and gold. We got the gold battery with our kit and wished we would have gone with the plaid or stainless option. Live and learn.
The battery is small enough to be easily portable – either in a pocket or purse. With small battery sizes you're going to sacrifice how long it will last on charge. We were pretty impressed with the Bedford Slim battery lasting power. We tended to get about half-a-day on near continuous vaping from each charge. A full recharge will take a couple hours.
A final style note, where most e-cigs have an LED tip that lights up, Bedford Slims batteries have a white mustache LED. That's doing hipster correctly.
Price ($39.00): 10 out of 10
We got the Vapourette Starter System for our Bedford Slims review and at $39.00, we can confidently say this is one of the lowest priced, highest quality pre-filled kits available. The Bedford Slims Vapourette Starter System includes:
– 1 Vapourette (battery)
– 5 flavor cartridges (each cartridge equals about 300 puffs)
– 1 USB recharger
– 1 USB to wall adapter
Flavors: 10 out of 10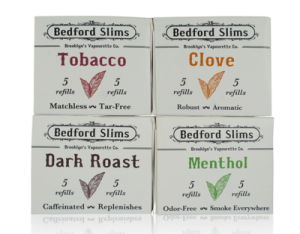 Bedford Slims excels at handcrafting delicious flavors for their nicotine cartridges. They don't have a huge variety of flavors like some other larger companies, but we guarantee the flavors they do have are very, very good.
It's important to note for our Bedford Slims review, their flavor cartridges are 33% larger than their leading competitors and the cartridges are made from naturally derived flavors and herbal ingredients. Each flavor cartridge is available in 0mg, 12mg and 24mg nicotine strength.
We tried the following flavors for our Bedford Slims review:
Tobacco – This is a mild tobacco flavor with light hints of vanilla. We really liked the natural earthiness of this tobacco flavor.
Dark Roast – Our favorite flavor, this one tastes like the best rich, freshly brewed cup of coffee you've ever had. And best of all, it's caffeinated! The throat hit is strong and smooth.
Menthol – A straight up take on your classic menthol flavor, they succeed with an icy cool flavor that's both refreshing and delicious. The throat hit is icy with a bite.
Clove – Fans of clove cigarettes will love this one, it's warm and spicy and is perfect for a nighttime vape.
Southern Tobacco – We really loved this tobacco flavor. It's incredibly smooth and perfectly sweet. The throat hit is one of the smoothest you'll find.
Warranty + Customer Service: 9 out of 10
The Bedford Slims customer service team is top notch. They only lose a point in this category due to the standard warranty. It's good, but not great. The details are:
For a refund – All items must be packed and shipped back to Bedford Slims within 30-days of receiving product, The package must include your email confirmation receipt and a note explaining why the product is being returned. A full refund or partial refund will be determined, minus the cost of shipping. For an exchange/replacement – If a product proves faulty, Bedford Slims will happily replace all products within 30-days.
Bedford Slims Review Final Score: 9.0

Make sure to check out all of our e-cig reviews, e-juice reviews, coupons, resources and contests.

Bedford Slims Review in 2022